If You Still Care About Bringing Back Our Girls, Tweet It, Lawmakers Say
Lawmakers launch Twitter campaign to pressure Nigerian government.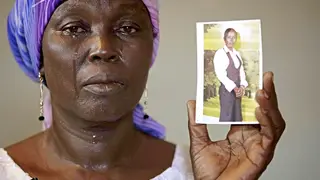 More than two months ago, the world was both transfixed and outraged by the abduction of nearly 300 Nigerian girls by members of the terrorist group Boko Haram. But as too often is the case with such tragedies, after a period spent dominating the headlines, interest ultimately fades. As the Nigerian-American author Teju Cole recently wrote in a poetic tweet, it was "like when lightning lights up a hill town and for a moment it feels itself fixed in God's eye, just before darkness owns it again."
Now, it seems, the girls, most of whom are still missing or perhaps worse, are fast becoming the kind of "side story" that Texas Rep. Sheila Jackson Lee and her congressional colleagues are fighting to avoid. They have launched a "Twitter war" that they're hoping will keep the world's outrage and concern alive.
Jackson Lee, Rep. Steve Stockman, Rep. Frederica Wilson and Rep. Lois Frankel, who recently traveled to Nigeria on a humanitarian mission, are calling on the world's citizens to tweet something about the girls each morning at 9 a.m. ET with the hashtag #bringbackourgirls. In addition to keeping a focus on them, it is an homage of sorts to the members of a Bring Back Our Girls committee who leave work each day to meet in front of the fountain at a Nigerian hotel at 2 p.m.
"They meet to let the world know that they're not going to let this go. We're [asking everyone] to join us in a tweet war," Wilson said. "I want you to tweet out demands to the government of Nigeria because they hold this in their hands. Tweet out the fact that we're not going to let this die; we're not going to let this drop."
In the course of a recent long weekend, the lawmakers, during their Nigerian trip, listened to harrowing tales from some of the girls who've returned to safety, their families and relatives of girls still missing.
One, Wilson recalled, told her potential rapists that she was menstruating when they sought to sexually assault her. They groped her anyway in case she was lying and then, recoiling at the sight of blood, ran. 
"She ran the opposite way and ran and ran until she had no breath," Wilson said, and escaped.
As that girl and others who got away shared their stories, one victim's father wept with worry about what traumas his still-missing daughter might be experiencing.
Some people might say the Twitter war is silly or even pointless, Frankel acknowledged, and even question why Americans should care given their own challenges, such as the economy and a potential national security threat posed by the group ISIS that is terrorizing Iraq.
"We should care because this is a crime against humanity that we can't let up on. And it may sound crazy to say we have to tweet," she said. "But the fact of the matter, from what I learned, is that unless we keep pressure on this Nigerian government, they aren't going to do what they need to do, which is negotiate the return of these girls."
In addition, Frankel noted, Nigeria is the African continent's largest economy. It also is the world's 26th largest economy and has a rapidly growing population.
"Nigeria could one day be a great economic and trading power and a place to do business," she said. "Or it could become a haven for terrorists and other terrible things."
According to Wilson, hashtag activism could also help save a lot of boys, who with no education, jobs or a future, are easy prey for Boko Haram leaders, whom she likens to a "Nigerian Taliban," to turn into terrorists.
"They rape girls and sell them to other men for wives, but they kill boys because they say western education is a sin. They don't want them to be educated. They want them to be gangsters and lawless hooligans roaming Nigeria to [wreak havoc on others]," Wilson said. "So there are many things that you can tweet out: messages about education and loving children; messages concerning working with the U.S. and French governments and other members of the international community who've come to Nigeria to help."
Keep tweeting and tweeting, she urged, "until it catches on fire across this world."
Follow Joyce Jones on Twitter: @BETpolitichick.
BET Politics - Your source for the latest news, photos and videos illuminating key issues and personalities in African-American political life, plus commentary from some of our liveliest voices. Click here to subscribe to our newsletter.
(Photo: Sunday Alamba,File/AP Photo)