Commentary: It's Time for Nigeria to Do Far More About Boko Haram
Boko Haram's impact on Nigeria could well undermine the economic gains the country has achieved.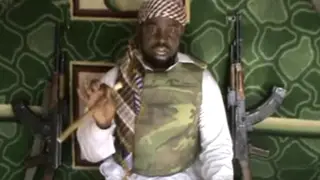 Just a few months ago, Nigeria became recognized as having the largest economy in the continent of Africa, eclipsing South Africa for that honor. It came as a result of a revision in the nation's gross domestic product that was revised upward after incorporating revenues from Nigeria's booming business sectors in film, music, telecom and e-commerce. And that's on top of its giant oil sector.
While this is a significant feather in the cap of Africa's most populous nation, that achievement is being tarnished — and may well be undermined — by a factor that has amassed far more headlines and international coverage than Nigeria's economy: terrorism.
In recent months, rare has been the day when there has not been a news account of the activities of Boko Haram, a terrorist organization based in northeastern Nigeria that seeks to establish a pure Islamic state. The group, whose name means "Western education is sin," has become well known for attacking churches, educational institutions and even police stations. In the decade ending in 2013, Boko Haram activities have resulted in an estimated 10,000 deaths.
The group recently attracted renewed international attention with the kidnapping of some 250 girls from a school in the northeastern part of the country, with Boko Haram's leaders saying it would treat the young women as slaves. It produced international outrage that included protests in several continents, including the voice of Michelle Obama.
Just this week, hundreds of people were killed in raids by the organization in Nigeria's Borno state, along the country's border with Cameroon, with some sources putting the death toll between 400 to 500.
The violence is not contained to that corner of the country. Boko Haram's activities have seeped into Abuja, Nigeria's capital, where two bombs exploded at a crowded bus station killing at least 90 people and injuring more than 200 others. There is no telling where the group might strike next or what its game plan will be to attract more attention in a quest to make bolder statements.
The government has made statements about the importance of confronting the attackers and finding the abducted girls. But so far, it has appeared oddly ineffective, leaving many Nigerians wondering the commitment — and ability — of the nation's military to properly combat this group.
The United States has sent in a team of advisers to provide surveillance assistance to the Nigerian military. That's a good start, but much, much more is needed. If anything is clear, it is the importance of the government and Nigeria's president, Goodluck Jonathan, to not only create the appearance of dealing forcefully with this issue, but to develop effective strategies to confront a crisis that could well undermine the economic gains Nigeria has achieved over the last decade.

The opinions expressed here do not necessarily reflect those of BET Networks.
BET Global News - Your source for Black news from around the world, including international politics, health and human rights, the latest celebrity news and more. Click here to subscribe to our newsletter.