Romney's 2012 Concession Call 'Slightly Irritated' Obama
Former Obama strategist David Axelrod describes call as not very gracious.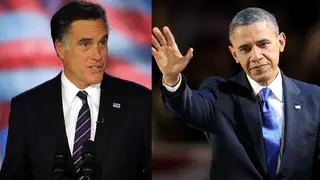 If President Obama is a fan of the Real Housewives of New York series, Countess LuAnn de Lessep's iTunes hit "Money Can't Buy You Class" may have played in his head when Republican nominee Mitt Romney called to concede the 2012 presidential race.
According to the president's former senior adviser David Axelrod, the New York Daily News reports, Obama was irritated because Romney, "surprised at his own loss," credited his win with getting out the African-American vote. In his memoir, Believer: My 40 Years in Politics, due out Feb. 10, Axelrod writes that Obama was "unsmiling during the call, and slightly irritated when it was over."
"'You really did a great job of getting out the vote in places like Cleveland and Milwaukee,' in other words, Black people. That's what he thinks this was all about," Obama said when the call ended.
But according to Garrett Jackson, then-Romney's personal aide, Axelrod's account is a "lie" and "ridiculous." He told CBS News that neither man was on speakerphone so no one "knows exactly what was said" and that Romney "didn't have that level of detail about the election returns."
"I just hope this lie is the work of David Axelrod and not the president. It's ridiculous. I was very disappointed they would make that up," Jackson told the network.
The Daily News, which snagged an advance copy of the book, also reveals that former chief of staff Rahm Emanuel campaigned for senior adviser Valerie Jarrett to run for Obama's Senate seat because he didn't want to "manage the president's best friend." Obama rejected the idea and convinced her to join him at the White House.
BET Politics - Your source for the latest news, photos and videos illuminating key issues and personalities in African-American political life, plus commentary from some of our liveliest voices. Click here to subscribe to our newsletter. 
(Photos from left: Joe Raedle/Getty Images, Spencer Platt/Getty Images)