Anti-Trump GOP PAC Releases Ad Against Herschel Walker
The ad shows the ex-wife of the former NFL player saying he wanted to "blow my brains out."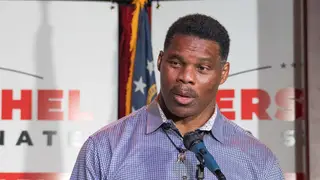 Former NFL player Herschel Walker is in a heated race against Democratic incumbent Georgia Sen. Raphael Warnock. Now, an anti-Trump GOP Political Action Committee has released an against Walker.
On August 8, the Republican Accountability PAC (RAPAC) dropped an ad titled  "The Real Herschel Walker." The ad includes allegations of domestic violence Walker ex-wife Cindy DeAngelis Grossman.
"His eyes would become very evil. The guns and knives. I got into a few choking things with him," Grossman said in the ad. "The first time he held the gun to my head, he held the gun to my temple and said he was gonna blow my brains out."
The Republican Accountability PAC (RAPAC) said in a statement, "Walker also lied about the 2020 election, including the outrageous proposal that Nevada, Arizona, Georgia, North Carolina, Pennsylvania, Michigan, and Wisconsin should re-run their elections. Walker also has no understanding of the major problems facing Georgians. His responses to policy questions have been so bad, his campaign is limiting his availability to the media and won't agree to participate in debates."
Walker responded in a video, "My opponents launched a dirty attack ad. They dug up an old video and took it out of context. My opponents think they're hurting me—but I am glad they did this ad. Because it gives me an opportunity to end the stigma around mental health."
It does not appear that the Warnock campaign has any affiliation with RAPAC.
Walker has made headlines for a series of bizarre comments. Last month, he went viral for hard to follow remarks about climate change. Additionally, he has been at the center of controversy for his conservative viewpoints on multiple topics including his anti-abortion stance, for which he supports a total ban with no exceptions; and gun control, for which he seemed to propose a governmental agency to monitor "young men that's looking at women that looking at social media."
Walker has attacked fatherlessness in the Black community, including in a 2020 interview with Trump supporters Diamond and Silk, although he reportedly lied to his campaign about his "secret" children, and had to admit to being the father of four. Walker, until this spring, publicly had admitted to fathering only one child.
After dodging debates during the primary, Herschel Walker has finally agreed to a debate with Senator Warnock but the exact date remains unclear. Walker agreed to debate Warnock at a venue the Warnock campaign, months earlier, declined to appear.