Michigan Local NAACP Chapter To March In Memorial Day Parade After Ban Overturned
The NAACP was excluded from the Greater Muskegon Memorial Day Parade due to a ban on political groups.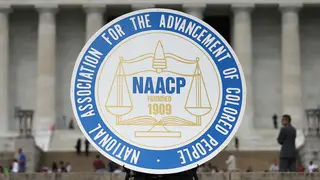 A local NAACP chapter in Michigan will be allowed to march in a Memorial Day parade after a ban that sought to deny the civil rights organization from participating was overturned, MLIVE.com reports.
On May 12, Janette McCarthy Wallace, General Counsel of the NAACP sent a letter to the Muskegon Memorial Day parade committee saying that denying the NAACP the right to march "likely violates Michigan's Elliott-Larsen Civil Rights Act."
"You should invite the Muskegon NAACP to march this year," Wallace wrote. "Banning the local branch from participating in the Memorial Day parade does a disservice to the roots of Memorial Day, the sacrifices Black soldiers have made for the United States, the importance of the NAACP in advocating for Black soldiers, veterans, civil rights – and a huge portion of Muskegon's population."
Steve Allen, Chair of the Greater Muskegon Memorial Day Parade Committee initially said that following his review of the NAACP's website, he concluded that the country's oldest civil rights organization was a "political action committee."
The NAACP fought the measure saying they are a nonpartisan group with many veterans as members.
After much backlash, the eight-member committee decided the parade should not be about "divisiveness" and lifted the ban.
"It was just an all-or-nothing type of thing," Allen said. "It was either we were going to cancel the parade, or we were going to allow the NAACP to march."
"We look forward to having a good parade," he added.
Eric Hood, President of the Muskegon NAACP and an Army veteran, said that the decision to exclude the NAACP was "a slap in the face. He also shared with Allen that the civil rights organization has a long history of fighting for the rights of military veterans.
"We're going to make the best of it and educate everyone around Memorial Day and use it as a catalyst for our membership drive," Hood said. "It's a slap in the face to think that this type of attitude still goes on in the City of Muskegon – throw a rock, hide a hand. It's still a struggle."