Pulse of the Culture: In Conversation With Alex Isley
Alex Isley's latest offering, 'Marigold,' serves as a soundtrack to help us connect more deeply with ourselves.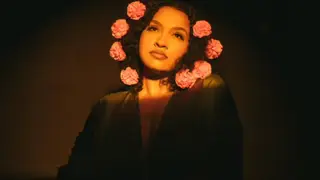 The human experience is a complex tapestry woven from an intricate interplay of moments, memories, and music that imbue significance into our simplest pleasures and most elaborate plans. Whether it's the soulful serenade of Anita Baker filling the air during a "cleaning day," or the lyrical melodies of Andre 3000's "Int'l Players Anthem" at the height of a wedding reception, music is a fundamental part of the foundation of which we build our lives and the lens through which we view the world. Infused with love, legacy, and boundless potential, Alex Isley's latest offering, Marigold, serves as a soundtrack to help us connect more deeply with ourselves and an invitation to join her on her journey of self-discovery.
At our core: everything is everything. At any given time, our lives constantly fluctuate between monotony, joy, and loss. Isley's music inspires listeners to embrace the idea that life, is what it is, and there is beauty to be found in each point of the journey.
Through intimate storytelling, we hear the R&B songstress give herself (and us) permission to be vulnerable with tracks like "Too Bad I Forget" and "Love Again." She notes that these songs are an effort for her to "be okay with all the parts of my life and how I might feel about them." From accepting "being back in a space where you don't want to be in" to "being okay with not being happy all the time and repeating mistakes in life" Isley shows us the power of owning the experiences shaping our lives.
 Without knowing it, she encourages us to do the same in our personal lives and does so with an unmistakable feeling. With ease, she creates a sonic space that is both warm and inviting, drawing the listener into a world of heartfelt expression where we feel safe in recognizing the parallels between what she's singing and our circumstances. 
At our core: everything is love. It is the spectrum in which we measure our capacity to understand the world around us. "The bridge is love...it all boils down to love," Isley muses. Exploring the true depths of what this means finds the vocalist sitting on an almost ten-year-old discography that is rooted in love just as much as it is in legacy and freedom.
Hailing from the family dynasty known as The Isley Brothers, it's a given that the younger Isley would find her voice in a sonic world filled with silky vocals and harmonies that feel like velvet. Rooted in the musical inspirations of her parents and BET's Planet Groove, the singer began to create space for the artists and genres that would eventually help mold her timeless sound. The worlds of jazz and r&b  gifted us with powerhouses like Whitney Houston, Brandy, Ella Fitzgerald and Billie Holliday; this infinite well of creativity established a sonic playground for artists like Alex to explore the bounds of music freely.
As each of her projects serves as a marker of time and a new level of introspection, Isley hopes that the notable change in production value over the years (thanks to collaborators like Jack Dine and Robert Glasper) allows listeners to use her music as an "example that learning and becoming better is all possible." Her most recent album, Marigold, feels like a manifesto to practice the act of freedom through lived experiences and intimacy with others and the world in which we create for ourselves. "The music is a reflection of where I am with self-love and pouring myself into the relationships around me" emphasizes Isley. This allows her to create an intimate and graceful musical atmosphere, drawing the listener in with every breath she takes.
Through her music, she has given us vulnerability and permission to let down our walls and exhale, which is often challenging to do as Black people living in America; she is the 'Pulse of the Culture.'
You can listen to "Into Orbit" by Alex Isley and other artists pushing the culture forward on BET's "Pulse of the Culture" Playlist, now streaming on Spotify and Apple Music.