Cardi B, City Girls, & Gucci Mane Are Some Hot New Music to Add to Your Rotation
Plus extra fire from City Girls, Gucci Mane, and 21 Savage.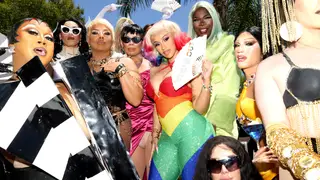 Music is everywhere and can be difficult to keep up with given how fast it hits digital streaming services these days. 
In an attempt to break up the monotony of the work week, plus offer some sonic salvation fresh after the long holiday weekend. 
It is with that written, that BET.com wants to share a brief, but very fuego look at some new tunes to add to your playlist. Put together for your Spotify, Tidal, SoundCloud, or Apple Music rotation, these latest joints feature and array of talent from across the musical landscape, plus promise a few diverse offerings that you can share with others.
So, without further ado, here are 10 new records that you should kick off your week with — led by Cardi B, City Girls, and Gucci Mane.
Cardi B — "Hot S**t" feat. Kanye West & Lil Durk

Cardi B arrives as hot as a flaming bullet with help from Kanye West and Lil Durk for her new single, "Hot S**t." 

The hard-hitting track features production from Tay Keith and three verses from these chart-topping and history-breaking rappers, each being as confident, blunt, and as flashy as we expect this trio to be.

City Girls — "Good Love" feat. Usher

It appears to be more than likely that City Girls will give us their fourth album at some point this year. The upcoming project has been previewed through hard-hitting records like "Top Notch" with Fivio Foreign. 

But now the duo that is Yung Miami and JT shows off their fun side with the flirtatious and inviting "Good Love" featuring Usher.

Gucci Mane — "All Dz Chainz" feat. Lil Baby

It's always a beauty to see a cross-generational collaboration within a genre and that's exactly what's presented on Gucci Mane and Lil Baby's "All Dz Chainz." 

The duo is a tough-talking pair on the track and they also take a moment to brag about their riches and accomplishments. 

There's mutual respect at play between these two street legends, and it's something that we always want to see when it comes to growing the future of this thing we love called hip hop.

Calvin Harris — "New Money" feat. 21 Savage

At long last, Calvin Harris finally revealed August 5 to be the release date for his highly-anticipated album, Funk Wav Bounces Vol.2, the sequel to his 2017 acclaimed album. 

Ahead of the album's arrival, Calvin unveils the project's second single, "New Money" with 21 Savage. It's a chill and groovy effort that captures 21 Savage flaunting his luxurious life and unique riches.

Steve Lacy — "Bad Habit"

This year is turning out to be one of those years where artists who were on significant hiatuses make their returns. 

Steve Lacy joins that list with the news of his upcoming third album Gemini Rights. Fronted by the first single, "Mercury," his first song in three years, he comes back for more with "Bad Habit." 

As for Gemini Rights altogether, that arrives on July 15.

THEY. — "Comfortable" feat. Fana Hues

One of the most impressive aspects of THEY.'s music is their ability to craft intricate stories through their strong releases. 

It's something that appears on their 2020 sophomore album The Amanda Tape. And more recently, we see it on their new single "Comfortable" with Fana Hues. 

The track highlights the art of seduction and continues the narrative presented on their previous single, "Blü Moon."

Joey Bada$$ — "Where I Belong"

While his upcoming third album 2000 might have endured a slight delay, Joey Bada$$ isn't making his fans wait for new music. 

He returns with the album's second single, "Where I Belong," which is an honest and straightforward record that accounts for his past, present, and future, as well as all the success that lies within it.

EARTHGANG — "Ambeyoncé" feat. Smino

While it took a bit longer than expected for it to be released, EARTHGANG's sophomore album Ghetto Gods is one of the better hip hop albums we've received in 2022. 

That project just got extended with a newly released deluxe version and a highlight on it comes on "Ambeyoncé" with St. Louis's own Smino. 

The three rappers arrive ready to set a mood and they achieve that in this lush new song.

DJ Drama — "Forever" feat. Fabolous, Benny The Butcher, Jim Jones & Capella Grey

DJ Drama is soon to return to the album release circuit, but while we wait, we're witnessing him establish one thing with his new single: his desire for longevity. 

With help from Fabolous, Benny The Butcher, Jim Jones, and Capella Grey — that message is made clear through this classic collabo-styled, feature-heavy number, which finds Drama making it all happen thanks to dope verses from his guests and a smooth hook from Capella to tie it all together. 

Mozzy — "Lurkin" feat. EST Gee

The track is steered by a menacing beat that Mozzy and EST use to soundtrack their late-night doings which they detail in a heinous tone.

Enwongo Okon, better known as Wongo, is a music journalist who has contributed to 2 Dope Boyz, Uproxx, Revolt, and Pitchfork. Rhode Island is home. Debate about all things music at @WheresWongo.