Horrified Students Demand Action After 'White' And 'Colored' Signs Appear Above Water Fountains At High School Known For Racists Acts
One former student said this is not the first time acts of intolerance have occurred.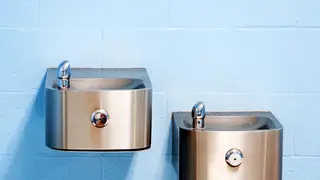 After a viral photo from a high school in Wisconsin revealed a student placed "white" and "colored" signs about a water fountain, local activist groups and former students are demanding the school address the racism issue in the community. 
According to the Milwaukee Journal Sentinel, the picture was taken at Franklin High School and the signs were in reference to the Jim Crow era segregation practice enacted on water fountains, bathrooms, schools, etc.
When one student saw the photo, he became so outraged he knew the only thing he could do was to take a photo and bring awareness to the hateful message.
"I took this picture today at school," Jacob Romanski, who took the original photo, wrote on Facebook. "The principal was notified immediately and I made sure this kid got in trouble. I really don't want to see this again."
Once the photo went viral, the NAACP Milwaukee Branch, the League of United Latin American Citizens of Wisconsin and the Jewish Community Relations Council of the Milwaukee Jewish Federation released a joint statement of concern on Jan. 23.
"Unfortunately, Franklin High School, like many schools and districts, does not recognize or celebrate the federal holiday recognizing the achievements of Rev. Dr. Martin Luther King, Jr. We ask that the district consider changing that policy. Today's action highlights the urgency of taking actions to ensure that the school celebrates tolerance and inclusion as part of its curriculum and culture," the statement said.
FHS Principal Michael Vuolo released a letter which said the administration identified the person responsible and is addressing their behavior. The letter did not state if the individual is facing suspension and/or expulsion.
"Franklin High School administration is aware of a photo showing this racist imagery and comments circulating on social media in and outside of the community," he said.
"Franklin High School values each and every one of our students. This act of intolerance by an individual does not represent the values of Franklin High School or the approximately 1,700 people who teach and learn here every day.
"The display was offensive, hurtful and wrong. As a school community, we have a responsibility to treat one another with kindness, respect, empathy and compassion."
Although this may appear to be an isolated incident, former student Amber Ariel Smith said on Facebook that this is not the first time racism has occurred at FHS.
"From my sisters being called N****r and the school not doing anything about it. To students making a VIDEO about how it's OKAY to say n****r for a presentation and the school STILL not doing anything. To THIS," Smith posted on Facebook. "I swear if the school don't do anything this time I'm driving up there myself. My younger brother and sisters shouldn't have to be disrespected like this and no one doing anything about it."