Saweetie, Dream Doll, Kash Doll & Others Narrowly Avoided Wardrobe Malfunctions At The 2019 Hip Hop Awards
See the impossibly sexy looks of 13 different rappers – including Megan Thee Stallion.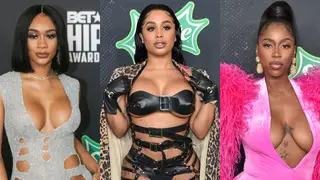 While the male rappers show up in the iciest chains, blinged-out Grillz and designer outfits to die for, some of our favorite rap queens showed up with bars, bling and a whole lot of body. With sheer fabrics, strategically placed appliques and lace, they were all about maximizing sex appeal.
It takes a certain breed of celebrity to pull these off. Being sexy and having confidence is a state of mind. Not only do you have to be brave enough to risk a wardrobe malfunction, but you also have to do it with enough confidence that you look fierce — not terrified — in the photographs.
We've rounded up some of the most sultry dresses to hit the green carpet. From Saweetie's strategically cut-out mini dress to Dream Doll's barely there black leather belt look — these ladies didn't come to play. 
Take a look at the sexiest outfits below! 
Saweetie looked flawless in a silver strategically cut-out mini dress by Angel Brinks.

Megan Thee Stallion wore a Custom red two-piece set by Stello.

Dream Doll took home the award for the sexiest look of all in a black leather dominatrix inspired dress.

Kash Doll took the plunge in a pretty pink velvet one-piece bodysuit with feather sleeves.

Teyana Taylor tastefully showed off her curves in a beige printed gown by Opening Ceremony.

Lil' Kim rep'd NYC in a rose gold custom Dapper Dan x Gucci dress.

Tommie kept it cute in a corset and sweats.

Lil' Kim switched it up into a lingerie inspired black sheer panel mini dress and white fur.

Spice gave us island vibes in a neon green bodysuit with a matching hood.

Jaz Anderson stepped onto the carpet with a black mini beaded dress.

Dae Jones looked like an ice queen in a sheer beaded gown.

Young Devyn was stunning in a pink two-piece set.

Kamillion wore a silver fringe mini dress with a unit to match.