On the Record With…Alonzo Mourning
The NBA All-Star turned philanthropist is taking on his toughest opponents yet: the health care crisis and childhood education.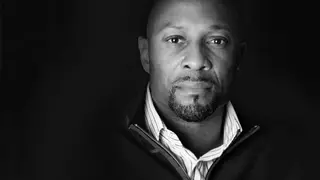 Tough times never last, tough people do.

This is a truth I have learned throughout my life. I was diagnosed with kidney disease in 2000 and, at the time, I was on top of the world. I was runner-up MVP. I was an Olympian. I was an All-Star, Defensive Player of the Year. I was everything I wanted to be in my sport. I felt invincible, like a superhero. However, I was humbled by a routine physical. I was coming home from the Olympics in 2000 and at our pre-season physical I was diagnosed with a rare kidney disorder, which is called Focal Glomerulosclerosis. It's a disease that scars the filters of the kidney. I learned later that kidney disease is very prevalent in the African-American community just like hypertension and diabetes. I was totally in denial. I did not realize that it was as tragic and life threatening as it was until I came to the reality of needing a transplant in 2003.

That whole ordeal made me look at health care differently because I was fortunate enough to be able to afford the medications and proper health care. I was able to afford to get a second and third opinion from doctors. Through education, I was able to feel more comfortable and confident about what was going on with my own kidney disease. Many people are diagnosed and they don't educate themselves about what they are dealing with. I also had the good fortune of receiving the kidney because I have a huge family and I didn't have to wait on the list. I didn't have to go on dialysis. Reading about the disease and understanding how expensive the medications are made me a true advocate for universal health care, even before it became a politically hot button issue. Approximately 20 million people have kidney disease and there are another 20 million who are at risk, then more than half of them are people of color.
I knew that I went through that particular "tough time" for a reason. I was told by an old coach, "Adversity introduces a man to himself and through adversity there is a seed of equivalent benefit." I tried to figure out what was the benefit in all of the pain that I was going through with the medication and transplantation. However, after going through that ordeal, I have become a voice for kidney disease and I've been able to raise millions of dollars to help educate doctors and to help towards finding a cure. I was blessed to help others and that was the "seed of equivalent benefit."

I am equally as passionate about education and I work hard with the Mourning Family Foundation to educate and mentor young children. My wife, Tracy, and I work to provide a multitude of opportunities to enhance the lives of children and families in the South Florida community through advocacy, education and enrichment services. Presently, the foundation supports over a thousand youth and families through the Overtown Youth Center and Honey Shine programs. These mentorship programs serve over 700 students ranging from ages 8 to 25 helping them with social skills, academic enhancement and character building.

Our aim is to tackle this vicious cycle of illiteracy that young people are facing across the country, especially Black and Latino kids. Some Black and young Latino men are misguided and many do not understand the importance of education or are dealing with so many other obstacles in their lives that prevent them from getting a quality education. Attendance is one of the biggest challenges that we face across the country; to simply get these kids in the doors of the school and understand some of the things that they are dealing with as it pertains to self-esteem and health related issues. Even social issues in the home are huge roadblocks and obstacles preventing students from progressing. Once they are in school, they are facing literacy issues of reading and writing. If you cannot communicate in this world, you can't survive. It's imperative for us to change the course of events that are unfolding. We have to prioritize education for our young people because I do not think that we do.

Back in the '60s, the United States led the world in educational categories of reading, writing, science and mathematics. Now we are ranked in the teens and below compared to other countries in the world. Where are our priorities when it comes to education? We're ranked first in number of incarcerations in the world. Where are our priorities? Our priorities should be with our next generation of Americans. We have to make an investment and create a positive road map for these children to follow to obtain quality education and success in the United States.

Alonzo Mourning is a seven-time NBA All-Star and passionate philanthropist in addition to being the vice president of player programs for the Miami Heat. In 1997, Mourning Family Foundation was created to inspire others through advocacy, education and enrichment services and allows donors with varied interests in children's issues, the benefit of giving to several charities from their one contribution.

The opinions expressed here do not necessarily reflect those of BET Networks.
BET Sports News - Get the latest news and information about African-Americans in sports including weekly recaps, celebrity news and photos of your favorite Black athletes. Click here to subscribe to our newsletter. 

More on ICON MANN, and join the conversation on Twitter @ #28menofchange and #iconmann.