Tori Kelly Raves About HER Duet With Pharrell Williams In 'Sing 2'
"Everything he touches turns into gold," she says.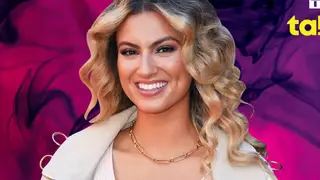 Come sing with Tori Kelly as she is set to reprise her role as Meena, a melodious pachyderma, in Sing 2, which will hit theaters on Wednesday, Dec. 22.
The film follows the ever-optimistic koala, Buster Moon (voiced by Matthew McConaughey), and his all-star cast of anamorphic performers as they prepare to launch their most dazzling stage extravaganza yet.
Here's where trouble ensues: They first have to persuade the world's most reclusive rock star to join them in the entertainment capital of the world.
The star-studded ensemble cast also includes Pharell Williams, Scarlett Johanson, and Bono, the legendary U2 frontman, who is making his animated film debut.
For Kelly, it's no secret that she has been wanting the opportunity to work with Williams again, and she tells BET.com that participating in this film with him pushed her one step closer to the dream collaboration she's been manifesting.
"We get to sing a duet in this movie and Pharell is incredible — everything he touches turns into gold," said the singer. "I've gotten to meet him throughout the years and [during] my career, but we never sang together. To record 'I Say A Little Prayer' with him, which isn't usually a duet, was cool to put our spin on it."
The 28-year-old musician doesn't get choked up in front of an audience, but Kelly did reveal she used to deal with stage fright which helped her relate to larger-than-life characters in the film.
"I definitely had stage fright growing up — one of the things that attracted me to the role of Meena because I could completely relate," said the actress. "There are videos of me belting my heart out and not moving a muscle [laughs]. I didn't know how to be confident on stage, but it took me a while to build up that confidence [up]."
The 28-year-old musician shares fans might not expect the song choices within the film.
"You might not expect certain songs within the film," she shares. "They do a really good job adding throwback songs as well as current songs that may take you on a roller coaster ride. Every single character gives a new flavor within the film."
Well, we're confident that fans will love her performance in Sing 2, which hits theatres on Dec. 22nd.
Watch the trailer underneath:
---
Ty Cole is a New York-based on-camera host and writer for BET.com. Follow his latest musings on Twitter @IamTyCole.