Cardi B Shows Fans Her Body After Baby No. 2—Here's Why The Busy Mom Says She Wants A 'Tummy Tuck'!
The rapper welcomed her second child with her husband Offset in September 2021.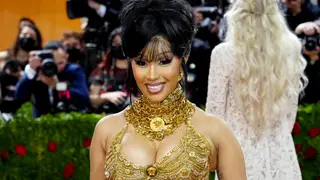 Cardi B is strongly considering getting a tummy tuck after giving birth to her son Wave in September 2021. On Wednesday, the rapper took to her Instagram Stories to show fans her fly new outfit and open up about her upcoming surgery plans.
"This stomach is giving tummy tuck," the rapper told viewers while pinching her midsection. The mother-of-two went on to explain, "Like, it's not bad, but I just don't like this extra little skin. I am a little heavier than usual, but I don't like it, I want to get rid of it. I think Wavey like … did me wrong."
Cardi later explained her plans to get rid of the "extra little skin" after she completes her upcoming press tour for her second studio album, which is set to release this year.
"I cannot wait to put out this song and do more things so I can get the f*** out and do my f***ing surgery. I'm over it," she continued. "Me and surgery goes [sic] together bad. We go together real bad."
Before giving birth to her second child with her husband Offset, the then-pregnant recording artist shared her plans to get surgery postpartum.
"I can't breathe, y'all. I'm ready to give birth," the pregnant star shared via Instagram Live video in August 2021. "And I'm ready to get some surgery too. Y'all know I love me some f**king surgery. I hate that I gotta sit down and wait like six months to get surgery. I want some f**king surgery. Oh my gosh."
ICYMI: Cardi B has always been transparent with fans about her cosmetic procedures. After welcoming her daughter Kulture in July 2018, the Bronx-born star revealed that she got a "mommy makeover" that consisted of a breast lift and liposuction.