Usher Spins #ClimaxChallenge On The Internet After The Weeknd's Comment That He Influenced The Original Song
See who else threw their hat into the #ClimaxChallenge ring.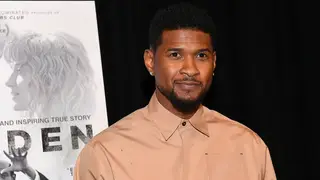 In the calm among a pandemic storm, The Weeknd made his long-awaited musical return with his  fourth studio undertaking, After Hours. In spite of the coronavirus outbreak and its consequent effect on the music industry, he also simultaneously cinched the No. 1 album and No. 1 single in the nation with the project, per Billboard.  
The studio release has been well-received by music lovers, critics, and fans alike, with After Hours exhibiting a marked evolution in the Toronto R&B crooner's sound. He reflected on this in a recent profile feature published by Variety on Wednesday (April 7). In the piece, The Weeknd talked about the influence of his 2011 introductory mixtape, House of Balloons, and aired out that he felt the mixtape "changed the sound of pop music." He pointed to Usher's acclaimed 2012 hit "Climax" as a testament to his impact, claiming it could have easily been a "Weeknd song."

"'House of Balloons' literally changed the sound of pop music before my eyes. I heard 'Climax,' that [2012] Usher song, and was like, 'Holy f**k, that's a Weeknd song,'" he told Variety. "It was very flattering, and I knew I was doing something right, but I also got angry. But the older I got, I realized it's a good thing."

Variety noted that representatives for Usher did not respond to their request to provide a comment, but he found another means to convey his sentiments (and set the record straight) on the matter. R&B singer-songwriter Eric Bellinger, who has collaborated with Usher on numerous occasions, took to Instagram where he launched the "#ClimaxChallenge" and invited The Weekend to back up his claim. Bellinger even kicked the challenge off himself. 

It doesn't appear that the 30-year-old has publicly taken up the offer, but the social challenge definitely took off on social media. Soon after, Usher hopped on Instagram Stories where he posted a well-timed video of himself singing the chorus of "Climax" acapella as part of the social challenge while at home self-quarantining. 

While he didn't directly address The Weeknd's assertion, the Twitterverse understood the message loud and clear. See their reactions to Usher's new #ClimaxChallenge response  below: