Diddy and Drake Squash Their Beef
Music superstars reportedly settle "0 to 100" rift with a phone call.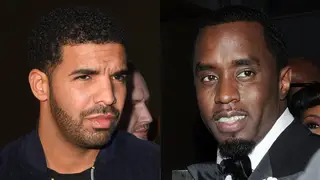 Two of hip hop's biggest names have decided to choose money over war. Diddy and Drake, have settled their beef over the track "0 to 100" according to sources that spoke to TMZ.
The music mogul and OVO rapper got on the phone sometime last month to hash out their issues. It's been six months since things allegedly turned physical between the two in Miami. Diddy allegedly slapped Drake at a nightclub because he was upset the rapper snatched "0 to 100" away from him. However, money was a great motivator in this peace effort. It seems that Diddy and Drake are both booked for festivals, parties, and other events this summer, so they figured they'd eventually cross paths at some point along the way. So squashing their issues beforehand made sense.

Now that both parties have made the wise business move to end the fued, Rap-A-Lot Records founder J. Prince, who threatened the Bad Boy mogul following the Miami fight, doesn't have to intervine.
While this is good news for all, we'll wait for the moment when the stars hug it out for the official gesture that the drama is truly dead.

(Photos from left: Kevin Winter/Getty Images, Daniel Zuchnik/Getty Images)