Shay Johnson Opens Up About Motherhood, Her Co-Parenting Experience, And Planning For Baby No. 2!
The 'Love & Hip Hop Miami' star and business owner spoke candidly to BET Lifestyle.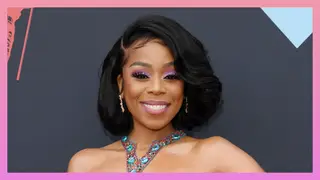 Shay Johnson is introducing the world to her beautiful baby girl, Shajiyah! 
The Love & Hip Hop Miami star recently sat down with BET Lifestyle to chat about her experience as a first-time mom and the importance of building a legacy for her little one. Keep scrolling to see the cutie and read more about her motherhood journey!
"This is something that I've wanted for a long time! It definitely came unexpectedly, but I'm blessed. Even though I had complications during pregnancy, I am truly blessed," Johnson happily shares with BET.com about the birth of her daughter. "She's here! She's healthy! And I'm healthy. That's all that matters."
As you may recall, BET followed Johnson's pregnancy journey closely as the soon-to-be mom documented her complications via Instagram. Some of her complications included learning that despite having a Myomectomy—a surgical procedure to remove uterine fibroids and reconstruct the uterus—three fibroids returned. The first-time mom also learned the unfortunate news that she would not be able to have a vaginal birth due to a case of Placenta previa, which happens when a placenta partially or totally covers the opening of the cervix and prevents the baby from pushing through.
Thankfully, all went well with the birth of baby Shajiyah. "I had a safe delivery and @iamshajiyah is perfect," the new mom captioned an Instagram photo of herself in the delivery room on May 18. "I'm officially a part of the mommy club. This process was emotional but thank you ALL for your support!"
Since the birth of baby Shajiyah, Johnson admits that although she hasn't gotten a lot of sleep, she's "extremely happy." So much so that she's considering having another baby in the upcoming year or so.
"I honestly think I want one more," she tells us exclusively about her hopes to have another baby with the father of her child. "A boy! It honestly doesn't matter, but in the perfect world, I would want a boy. I told Shajiyah's father that I want one more. He said, 'Let's do it in about a year or two.' I'm like, 'No, I want one now.'"
Johnson went on to share details about her co-parenting experience with Shajiyah's father, which she admits has its ups and downs like any partnership. "Her father is definitely there. He's not going anywhere. That's his little princess. He's a little controlling, but he knows more than I know when it comes to raising a baby. He's a little more experienced than I am. It's fun and hard at the same time."
She continues, "He's someone I've been dealing with off and on for over 10 years. It's not some random individual, it's not somebody I just met. We've had our ups and downs…it's just that type of relationship. You love to hate him, but you love him."
Any mom knows that lack of sleep comes with the territory of motherhood, but Johnson says no one prepares you for the mindset shift of being a first-time parent. "My mindset changed. I'm very over protective and I don't focus on certain things that I used to focus on. It's more about her and the image I'm portraying."
Johnson further elaborated, "I'm trying to set an example for her."
The 38-year-old entrepreneur celebrates her decision to start The Healthy Hand, a health and wellness company that uses natural ingredients and healing herbs to create a variety of products to transform the lifestyles of her customers.
The busy mom hopes to pass down the growing business—that recently landed a partnership with Crunch Fitness— to her baby girl.
"I want to teach her how to be a businesswoman and hopefully help her not make the same mistakes I've made. I'm still making mistakes with my business, but my business is growing—I'm doing something right! I'm just hoping that I can lead her in the right direction. I don't know everything, but I will give her all the knowledge that I have to help her succeed in her life's journey."
In the future, Johnson plans to roll out a collection of baby products to give her daughter a head start in the business world. "My legacy with The Healthy Hand will continue through her. The only way it will continue through her is if I show her how to build a brand. Every month a percentage of the brand goes into the bank account that I started before she was even born. I want her to have a certain amount of money, but what I won't do is give her everything. You have to teach your children how to fish, not give them fish."
As for how she manages balancing self-care, motherhood, and business, Johnson says it's all about learning balance.
"It is a learning curve. I will say the hardest part about this process is I honestly don't get any sleep. I haven't had a full night's sleep since she's been born, but I nap when she naps," she admits before explaining the importance of having a schedule. "When she sleeps in the morning, I get up and juice almost every day. I also try to do a little at-home workout because there's no excuse. You do not have to go to the gym to work out. It's all about timing."
Like most new mom's, Johnson admits that she has unlocked a new level of respect for her own mother. "I have a lot more respect for my mother now. And I've told her several times, you know what, 'Mom, I am so sorry for what I put you through and I'm sorry for any disrespect I gave you because I see now what you had to go through when I was a little baby and the unconditional love you had to give me."
She adds, "I just appreciate all moms out there! Motherhood for me, is being the best me that I can, being the best mom that I can be, and having respect for all moms."
To her fellow moms, she offers these kind words: "I salute you, I tilt my hat to you. And any obstacles you go through out there ladies, you can make it through!"
To learn more about The Healthy Hand and their growing collection of products, visit the brand's Instagram and website.