Three Things To Know About Darrell E. Brooks, Who Is Charged in the Deadly Wisconsin Christmas Parade Crash
Arrested after smashing his vehicle into a crowd in Waukesha, Wis., Brooks had been in jail for running a woman down with his car.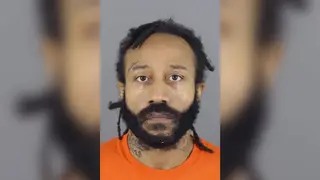 The man who police say smashed through barricades and drove into a Waukesha, Wis., Christmas parade on Sunday (Nov. 21), killing five people and injuring 48 others has been identified. Darrell E. Brooks Jr., 39, of Milwaukee, faces five counts of first-degree intentional homicide and additional charges to prosecutors.
Waukesha Police Chief Dan Thompson explained to reporters that there had been no police chase preceding the car driving into the crowd. He also said there was no evidence that this incident was an act of domestic terrorism. Brooks is expected to appear in court on Tuesday (Nov. 23).
Here's what's known about the driver.
He Has Threatened to Use His Vehicle as a Weapon Before
According to the Milwaukee Journal Sentinel, Brooks was pulled over for not wearing a seatbelt in 2011.  He initially gave police a false name, and when an officer asked him again to identify himself, Brooks turned on his vehicle and put it in drive. Fearing he would be run over, the officer jumped into the car with Brooks and wrestled with him for control of the vehicle. When the car was stopped, Brooks ran off and was found hiding in a child's playhouse. He pleaded guilty to a misdemeanor in that case.
On Nov. 2, Brooks came to see a woman who was staying at a motel but that turned into a violent incident. He yelled and swore while banging on the door. When the woman answered and tried to move past Brooks, he snatched her phone and drove away.
The women later walked to a gas station, and Brooks drove up and demanded she get in the car. When the woman refused, Brooks punched her in the face and ran her over with his car in the gas station parking lot. She survived but was hospitalized.
He is a Convicted Sexual Offender
The New York Post reports that in 2006, when Brooks was 24, he was convicted of fathering a child with a 15-year-old Nevada girl. Although the relationship was reportedly consensual, Brooks was convicted of statutory sexual seduction according to the Reno Gazette-Journal.
He is listed with the Nevada Sex Offender Registry as non-compliant because of his failure to register or update his personal information such as address and employer.
He Was Released from Jail Days Before This Latest Incident
For running over the woman at the gas station, the Milwaukee Journal Sentinel reports Brooks was charged with two felonies, including second-degree recklessly endangering safety, and three misdemeanors, including battery and disorderly conduct with domestic abuse assessments.
He posted $1,000 cash bail, which the Milwaukee County District Attorney's Office said in a statement was "inappropriately low."
Brooks was released Nov. 16 in Milwaukee, but he was immediately taken into the custody of the Waukesha County Sheriff's Department, where he had a hold in a paternity case. He was booked in Waukesha County and released that same day.
Meanwhile, police have identified the victims who died in the crash as Virginia Sorenson, 79; LeAnna Owen, 71; Tamara Durand, 52; Jane Kulich, 52; and Wilhelm Hospel, 81.