De La Soul's Posdnuos Honors 'Stakes Is High' Anniversary With Pre-J Dilla Demo
You're gonna wanna hear this.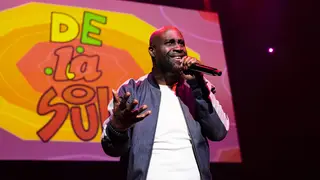 De La Soul have been legends in hip-hop for over three decades, so they have some incredible music out in the public sphere and unreleased gems.
To that note, trio wordsmith Posdnuos decided to let one of those goodies drop digitally in honor of the 27th anniversary of De La's classic LP Stakes Is High. In a video posted to his social media, Pos points the camera to a cassette tape of the album as an unreleased version of the title track plays in the background.
The version of the song was created before legendary producer J-Dilla collaborated with the group on it. The sample features The Heath Brothers' "Smilin Billy Suite."
"27 years ago 3 Long Island men gave you the Stakes is High and every one of those 27 years @wearedelasoul have been blessed with listeners letting us know what this album means to their lives," Posdnuos captioned the post. "Thank you ! Thank you Jay Dee for "Dilla-nizing" our original version of the title track to make it into a Hip Hop sermon! #delasoul #thankyoudave #dilla #stakesishigh #27 #demo".
This is just the latest tribute made by Posdnuos. Last month, he honored his fellow De La Soul emcee Trugoy the Dove on the title track of Statik Selektah's latest album Round Trip where he raps about how his group will continue on to honor his legacy.