Michelle Obama To Hang Out With Johnson Family In Final Season Episode Of 'Black-ish'
Things are getting presidential as the former FLOTUS joins the Johnson family for the show's last hoorah.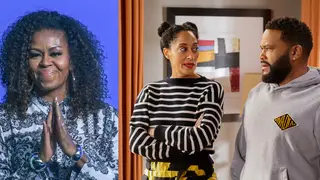 A very special visitor is joining Rainbow and Andre Johnson's family as they embark on their last hoorah.

The announcement regarding former First Lady Michelle Obama's guest star appearance in an upcoming episode of black-ish has made waves on- and off-line. The wildly popular ABC network show, which is set to return for its eighth and final season in early 2022, is going all out and many fans are here for it.
"To all the people in the world I love, honor, respect, and care for, it is both exciting and bittersweet to share that black-ish been renewed by ABC for its eighth… and final season," series creator Kenya Barris posted to his Instagram page in May. "In this day and age, it is rare to get to decide when your show should come to an end, and we are grateful along with ABC to be able to make this final season exactly what we'd hope for — and to do it with the entire and amazingly stellar cast coming back to close this chapter out with us the right way!"

And for those under a rock, this isn't Obama's first sitcom rodeo. During her husband Barack Obama's presidency, she played herself on NBC's Parks and Recreation's Season 6 finale, and with such an array of topics ranging from the global pandemic to the need for equality to systemic racism, odds are that Mrs. Obama's arrival will be tied to one of those topics.
​​RELATED: The Obamas Are Producing A Netflix Comedy Series About 'Chaos' That Occurred When Trump Became President

Outside of black-ish, the Obamas' Higher Ground Productions is ramping up its own slate of programming, thanks to their overall deal at Netflix. With past productions such as Fatherhood and Worth, bringing home the bag, the company is looking to tell stories in some new series with themes about Black love (Blackout), achievement (Bloom), and adventures (Listen To Your Vegetables & Eat Your Parents) in the new year.