The Obamas Are Producing A Netflix Comedy Series About 'Chaos' That Occurred When Trump Became President
The show is called 'The G Word' and is slated to begin taping next year.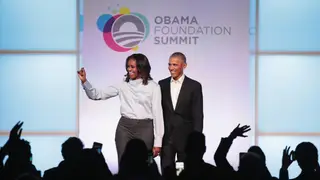 Barack and Michelle Obama are slated to produce a new Netflix comedy series about the "chaos" that ensued when Donald Trump became president four years ago.
According to Deadline, the series is called The G Word and it's due to begin production in early 2021. It's based on Michael Lewis' book The Fifth Risk, the rights to which the Obamas bought in 2018.
The G Word will be part-documentary, part-sketch comedy and will let viewers decide if government is "a dirty word or a trusted institution," according to Deadline.
Comedian Adam Conover is set to host the show and took to his Twitter account to express his excitement over the venture. "Very happy to finally be able to share this news: I'm creating a new comedy series for Netflix about the federal government. It's called The G Word, and I can't wait to share it with you," he wrote.
In 2018, the Obamas and their company Higher Ground Productions signed a multimillion-dollar deal with Netflix. American Factory, their first project, won an Oscar for best documentary feature this year.