10 Things African Americans Need To Know About Protecting Themselves From Coronavirus
How we can live our daily lives in the age of COVID-19.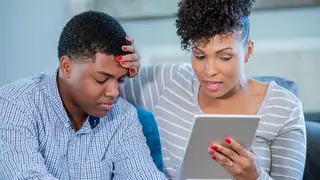 The world is now at a very high alert as new cases of individuals infected with the coronavirus disease continue to be discovered each day. Even with all the news reports, experts, and layman's advice, many people don't exactly know what this is, how to properly manage symptoms if you feel sick, or what to do to prevent infection beyond washing hands and social distancing. 
Dr. Corey Hebert, chief medical officer at Dillard University and an assistant professor at Tulane and Louisiana State Universities, is the chief medical editor at WDSU in New Orleans. He is on the frontlines of educating people on ways to combat the illness including how to make sure you don't get it and what to do if you do. 
Here are 10 smart suggestions from Dr. Hebert. specifically for our community, on how we can keep ourselves healthy in this time of such uncertainty.  
Watch For Symptoms

Not sure what some of the symptoms are to identify if you've been infected? Dr. Hebert says look for very specific details. 

"If someone has a very abrupt, harsh cough, that feels unlike what they've ever felt before; kind of a general malaise, like you have some body aches; also a temperature over 100.4 degrees, then they need to go to their primary care doctor, or to the ER if there's a possibility they've had contact with someone with coronavirus.


Boost Your Immunity

Dr. Hebert  says you can find ways to increase your immunity by doing the things that you should always be doing.

"Get lots of sleep like eight hours. You need to eat well, including fresh fruits and vegetables as much as you can and I would also take a daily multivitamin and drink plenty of water."

Lessen Your Stress

This is not the time to push the panic button. 

"You have to decrease your stress," says Dr. Hebert. "Stress causes certain hormones in the body to go up including one called cortisol, which is a steroid. If you have increased steroids in the body, you have decreased immunity. So the more you panic and the more you stress, your immunity goes down and you're more at risk."

Check Your Bad Habits

This may be a time when you think indulging will make you feel better. Dr. Hebert suggests you resist the urge. 

"You can't eat a bunch of junk, drink a bunch of alcohol, not sleep and stress out because that's going to decrease your immune system and that will cause you to be more apt to get this virus. Eating well, sleeping and not stressing. That's it. Keeping your immunity up, that's all you can do."


Move That Body, Ody, Ody

Now that many people are practicing social distancing and gyms are closed, that doesn't give you a free pass to just lounge around the house after you shut down the computer. 

"Exercising is very, very important," says Dr. Hebert. "If you need to do your sit-ups and push-ups or do a workout video at home, that's fine. If you want to do it in your yard, that's fine. If you want to go to the park and do it there, that's fine. But you should not be exercising within groups of people at all."

Praise On... Virtually

During the most trying times, the Black community turns to spiritual guidance and acts of faith. As many Christians look forward to the Easter holiday quickly approaching in April, some are left confused on how to celebrate. 

"It's really important that people continue to congregate virtually with their faith-based organization," advises Dr. Hebert.

"We can't go to church now, which is very hard for a lot of people, but most of the churches and faith-based organizations are having outreach so you can interact with your spiritual leader. However, if yours does not, then I'd recommend finding a mindfulness app and using this time to learn how to meditate." 


Keep Your Babies Safe

If it's hard for adults to fully grasp what's going on these days, imagine how kids are feelings. As they complain about adjusting to being out of school, thrust into a homeschool environment and cut off from friends and family, your only goal as a parent is to keep them safe.

"With kids it's very important because they are going to be the main ones carrying this, not having symptoms and giving it to other people and that can be due to bad hygiene. So we've got to keep our children very clean. They need to use hand sanitizer all the time. We need to remind them constantly not to touch their faces and wash their hands all the time. If they're small children, you'll  have to do it for them."

Find Yourself Again

If you're a workout king or queen and feeling the burn is your thing, sorry for you. The best advice is to find another healthy way to work through those emotions. 

"I would still recommend working out in your home, but at the same time, I think it's a really good time for us to start reflecting on things we really didn't reflect on as much," says Dr. Hebert.

"We should probably start reading a little bit more and learning about things a little bit more.  A lot of times people will use sports to get rid of anxiety and a lot of times you get that anxiety because you're scared and nervous. Now, is the time to get to know yourself and start to get rid of pent up frustrations on your own."

Careful With The Seniors

We've all heard that anyone over the age of 60 is more susceptible to contracting coronavirus and experiencing a worse outcome, but as many of us live with or are close to our grandparents, this makes social distancing almost impossible. 

"When we look at numbers of people who have been positive, there are numbers of people who are in the 30-year-old range that are very high, and 40-year-old and 50-year-old range. But people aren't having severe symptoms. So it's not that the older people are getting it and the younger people are not getting it. It's the older people having really bad symptoms and the younger people are having very mild symptoms."

Don't Treat Yourself

There's no way to diagnose yourself. If you're experiencing symptoms, Dr. Hebert suggests the best thing you can do for yourself is to call or visit your doctor.

"If you feel that bad, then you need to go in because you need to get a test done so we can actually know if you have it. We may send you home to treat yourself and isolate yourself once we know you have it, but we need to identify the cases."