'Set It Off': 27 Years Later - A Look at the Cast And Their Journeys Since Its Release
Latifah, Jada and more blew up the box office back in in 1996.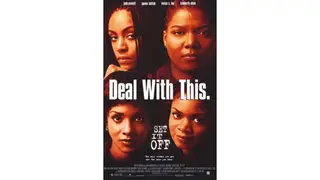 "Set It Off," the gripping heist thriller released this week in 1996, is now celebrating its 27th anniversary. Directed by F. Gary Gray and featuring a talented ensemble cast, the film portrayed the gripping story of four friends who turned to bank robbery to escape financial hardship. As we commemorate this milestone, let's look at the main cast members and see where they are now.
Jada Pinkett-Smith (Stony Newsom):

Jada Pinkett-Smith has continued to thrive in Hollywood. Her acting career has seen her in various films, and she's known for her advocacy and candid discussions on important social issues. 

This year, she released her bestselling memoir "Worthy." She is also in pre-production for the "Girls Trip" sequel. 

Queen Latifah (Cleo Sims):

Queen Latifah, a multi-talented artist, has excelled in acting, music, and producing. Latifah is a bonafide legend. She is currently slaying it "The Equalizer" on CBS and is also in in pre-production for the "Girls Trip" sequel with Pinkett-Smith. 

Vivica A. Fox (Frankie Sutton):

Vivica A. Fox remains a successful actress. She's also known for her commentary and co-host of Fox Soul's "Queens With Cocktails," which aired from 2020 until June 2023.

You can also see her in "Sworn Justice: Taken Before Christmas." The film follows a detective and her DA boyfriend, who are informed that each other has been kidnapped. The film streams on BET+ beginning November 16. See the trailer above.


Kimberly Elise (T.T. Williams):

Kimberly Elise has continued to showcase her acting talent in various films and television series, often addressing social issues through her work. Last year, she stepped into political commentary when she celebrated the U.S. Supreme Court's decision to overturn Roe v. Wade, revoking a woman's "right to privacy", which protects a pregnant woman's right to an abortion, a law that had been in place for 50 years. 

Elise took to Instagram to post an image of a sleeping baby along with the caption, "Millions of babies will be saved from death by abortion due to the overturning of Roe V. Wade. Hallelujah! #allglorybetoGod." 

Her last film credit was "A Snowy Day in Oakland," which was released in March. See the trailer. 

Blair Underwood (Keith Weston):

Blair Underwood has had a successful career in film, television, and theater, earning critical acclaim for his performances. This year, he stars in "Origin" which opens in theaters on December 23. The Ava DuVernay film is adapted from Isabel Wilkerson's non-fiction book, "Caste: The Origins of Our Discontents." The film explores the author's theory on a functioning caste system in American society and its parallels with similar systems in India and Nazi Germany. Check out the trailer above.

Thomas Jefferson Byrd (Luther):

Thomas Jefferson Byrd, who portrayed Luther in the film -- the owner of the cleaning service where the four BFFs worked -- had a notable career in film and theater. Tragically, at the age of 70, he was fatally shot in October 2020 in Atlanta, Georgia.