Young Thug and Gunna's Rico Cases Delayed Until March
The district attorney motioned for the delay in order to give the defendants time to secure a lawyer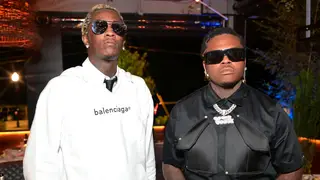 According to Fox 5 Atlanta, District Attorney Fani Willis has filled a 10-page motion to delay the trial of Young Thug and Gunna amid their Rico charges.
Within the motion, Willis states that eight of the 28 defendants in the case still do not have attorneys months after their indictments.
"A continuance to the final week in March would protect the speedy trial rights of those who have asserted those rights while also ensuring that the additional eight defendants have properly prepared appointed counsel," she writes in the motion.
The prosecutors also share sentiments in the motion, stating they are "concerned about the inconvenience and "trauma" of repeated testimony of witnesses who were the victims of violent gang crimes."
Willis has asked that the trial scheduled for January 9 be delayed until March 27 to give the defendants time to secure representation for trial.