Prince Harry Breaks The Cardinal Rule Of Interracial Relationships By Constantly Touching Meghan Markle's Hair
Fans are divided on whether it crosses the line.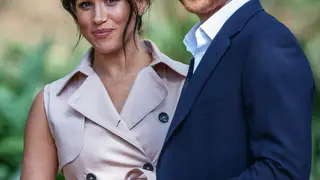 A viral tweet jokingly implies that the Prince has become the Duchess of Sussex's hair fixer as a new career option.  
In a clip shared to Twitter by a royal fan compiles various occasions that Harry helped Meghan adjust her hair during official royal engagements in 2019. Harry has alway's had Meghan's best interest, and these clips prove it. 
There are images of Harry untucking his wife's ponytail after she was presented with a necklace during their tour of Morocco, and laying down her fly-aways  after it was out of place during her charity cookbook launch at Kensington Palace. 
Take a look at the cute video below!
The couple has always behaved affectionately towards one another, so Harry fixing her hair is another sweet term of endearment but Black Twitter might see it differently. We don't like anyone messing with our hair, sweet or not! 
The clip shows Harry on the first day of their 10-day tour of Africa and video of Harry untucking his wife's ponytail during a visit to the Nyanga Township to meet with young people from the Mbokodo Club Project in September last year. 
We love their love! But what say you, Black women? Is this ok?