Masika Calls Fetty Wap a Keyboard Thug and a Dog
Plus, she wants to be an example for other women.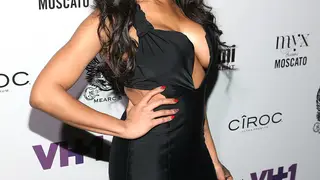 The war between Fetty Wap and his alleged baby's mother, Masika Kalysha, is among the ugliest we've ever seen. Last week, the rapper hurled a series of allegations at the former reality star, first saying she targeted him to knock her up and then claiming he has reason to believe her baby isn't his.
Now, Kalysha is speaking up for herself, clapping back against her ex and all the Internet trolls giving her a hard time. In a new blog post, Masika explains why she decided to keep her pregnancy a secret for so long and has some choice words for her ex.
"There's actually several reasons why I kept it to myself, I'll give you one," she begins. "Ever since I made my announcement, the idiot corner (including petty wap) has been in their deepest of feelings running amok all over the Internet with their keyboard thuggery. I have never cared what anyone may say or think about me. But when it comes to my child you will watch your mouth." She goes on to say that she decided to come forth with her condition to set an example for other women in a similar situation. "I want to show you that you can be strong and beautiful and be a boss no matter what comes your way."
She goes on to share her side of the circumstances when she got pregnant. "I was in a committed relationship, with a man who initially got me pregnant," she writes. "This was not how I imagined my life would be. I never wanted to have children before marriage but as an adult I decided to handle my responsibilities like a grown woman while my child's father decided to cower like a dog with its tail between its legs."
She concludes her post on a Zen note about her ex. "I'm learning to pray for him. He needs it. God already has me covered."
We may never know the real story of what went down between these two, but hopefully they'll sort it out before the baby is born.
Watch a recap of all the drama with BET Breaks, below:
BET.com is your No. 1 source for Black celebrity news, photos, exclusive videos and all the latest in the world of hip hop and R&B music. 
(Photo: Jesse Grant/Getty Images for VH1)