Shemar Moore Speaks Out On Rumors He's Dating Phaedra Parks
An IG post had everyone talking.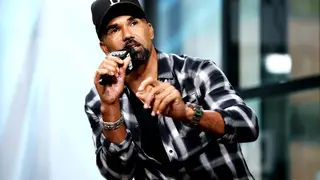 Last week, it was reported that Shemar Moore was dating Phaedra Parks of Real Housewives of Atlanta. However, it looks like Mr. Moore isn't here for these rumors — he's speaking out.
It all started with an IG post that had the caption, "The look on bae face when you tell him tonight is your night."
Now, in a statement to E!, the Criminal Minds actor said, "This thing, it's crazy to me, I just woke up, like last week and everybody's like, 'Phaedra, Phaedra, Phaedra — and look, I met Phaedra doing a nighttime talk show with Andy Cohen and Andy Cohen does this thing late at night and he likes to get you to drink. And so you're loose and you have fun on his show." He continued, "So I walked in and I saw Phaedra and I know who Phaedra — I've heard of Phaedra and she was looking like... and so she looked at me and I kind of had this sense of like, 'Oh, she thinks I'm the guy from The Young and the Restless or 'She thinks I'm a certain Shemar.' And I said, 'Well, I'm gonna introduce you to a different kind of Shemar.'"
Lastly, he said that was the one and only time he saw her, "So I just decided to have a good time and she was such a good sport and we played and we flirted and we got our little kissy face on. And then that went viral and that's the first and the last time that I've ever seen or met Phaedra."
Damn, did Phaedra drum up this press on purpose? As we reported earlier in the week, Phaedra was allegedly using this publicity to get back on Real Housewives of Atlanta or land another reality show. You never know, the world of reality television is shady AF, she might make a comeback!
Get more Phaedra news with BET Breaks above.