What Happened to an Officer's Body Cam During the Fatal Shooting of an Unarmed Teen?
A Chicago family's search for justice became that much harder.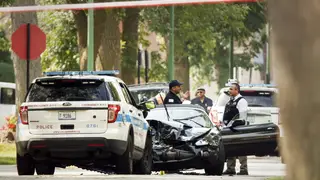 Last Thursday night, Paul O'Neal, 18, was shot in the back by a Chicago police officer in South Shore. Although the officer who killed O'Neal wore a bodycam during the shooting, it was revealed yesterday that the camera never recorded the shooting.
During the exchange with officers, two officers opened fire on O'Neal while he was in the vehicle. O'Neal then left the vehicle and started to run away until another officer opened fire and he was struck in the back of the head.
Ever since they filed the lawsuit, the family of O'Neal, along with their attorney, hoped that footage from the officer's body cam would act as strong evidence. However, Police Department spokesman Anthony Guglielmi said the officer's bodycam "didn't capture [the] fatal encounter."
Although the shooting officer cannot provide footage, there is additional footage from the dashcam and other bodycams that will be released in a 60-day time period.
While the investigation is completed, Chicago Police Supt. Eddie Johnson has relieved the three officers involved in the shooting of their police duties. However, they have been placed on a paid administrative leave.
Activist William Colloway has put forth a motion for the Independent Police Review Authority to release all videos before the 60-day period.