Masika Kalysha Dares Fetty Wap to Prove He's Not Her Baby's Daddy
Plus, you'll never guess her next career move.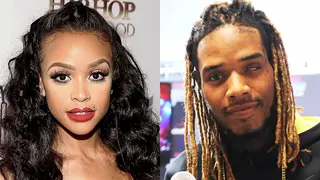 Fetty Wap and Masika Kalysha have very different stories when it comes to who's the father of the reality star's baby. She says the "Trap Queen" rapper is the one, while Fetty seems to go back and forth about whether or not the baby girl, who is due on April 8, shares his DNA. Masika, for her part, claims that she's tried to end the speculation once and for all by begging her former beau to take a paternity test.
"I tried to demand him taking a paternity test," she tells Us Weekly of the rapper, already father to son Aydin, 4, (with ex-girlfriend Ariel Reese) and daughter Zaviera, 9 months (with ex-girlfriend Lezhae Zeona). "He doesn't want to take one. I asked him seven times, 'Will you just volunteer and do it?' He refuses."
She says that when she broke the news to Fetty, he told her, "'Well, I don't really want to have another kid right now.'" Later, Masika says, he made it clear he would have nothing to do with the child. "He's like, 'Well, if you have this kid, I'm not going to help you out with anything. I'm not gonna be there. You're own your own, so it's up to you."
Though Fetty has been talking to the press about wanting to see a DNA test, Masika says in private he's already acknowledged that he's the father. "He's only said, 'I'll see you at the hospital. See you when our baby's here,'" she recalls.
The reality star and aspiring singer says things were very different when they first met. Rather than a one night stand at a club, which is how Fetty describes their relationship, Masika says they were talking all the time and in a serious relationship when she got pregnant. So serious, she adds, that they were house hunting in the Hollywood Hills together, and that Fetty introduced her to his family: "He put me on FaceTime with his mother!"
At this point, sadly, it looks like Masika is going to be a single mother. But even if she can't count on any checks from Fetty to keep her afloat, she has lined up another lucrative gig tied to her pregnancy: her own reality series called Pregnant In Pumps. "This is not a show about baby mamas, about pregnant and being famous, no," she explains. "This is a show about women just like me who are faced in a situation and you don't let that situation beat you up. It's about continuing to work, continuing to stay positive. … I just want people to see this journey and be inspired by me in some way."
Watch a recap of all the drama with BET Breaks, below:
BET.com is your No. 1 source for Black celebrity news, photos, exclusive videos and all the latest in the world of hip hop and R&B music. 
(Photos from left: Jesse Grant/Getty Images for VH1, Brad Barket/Getty Images for iHeartMedia)