Report: Tiffany Haddish's Ex Is Unleashing Russell Simmons' Team To Retaliate Against Abuse Claims
This is about to get to a whole new level of messy.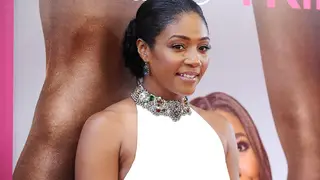 The battle between Tiffany Haddish and her ex, William Stewart, has just reached new heights as the man she claims abused her in her hugely successful memoir, The Last Black Unicorn, is now preparing to sue her and he's recruited some familiar talent to do so.

Get more Tiffany Haddish news with BET Breaks, above.
According to theJasmineBRAND.com, Stewart is taking legal action against the Girls Trip star over the domestic violence claims she made in the book. He has also enlisted Atlanta attorneys E. Carlos Tanner, III, and Michael T. Sterling, who are both currently representing Russell Simmons in his sexual assault case, with the latter standing as Eva Marcille's boyfriend.
The site further reports that Stewart's new legal team is looking at a potential libel and defamation suit which will specficially address the claims the comedienne made when she accused their client of physical abuse that led to her suffering from a miscarriage.