Piers Morgan Does His Best to Troll Nicki Minaj
She's too busy to care.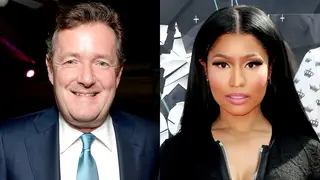 Journalist Piers Morgan tried hard at trolling Nicki Minaj in a scathing commentary on her Twitter exchange with Taylor Swift. As previously reported, Minaj thinks MTV overlooked "Anaconda" in the Video of the Year category because she's a Black woman with curves, and voiced her thoughts on Twitter. 
 | CLICK FOR NICKI MINAJ'S SEXIEST MUSIC VIDEOS |     
Swift, whose "Bad Blood" video is nominated, took it as a personal jab, and responded to Minaj. They had words, but squashed it after Minaj explained that the tweets weren't aimed at her, or any specific artist. Minaj's frustration surrounds racism in the music industry as a whole.  
Nonetheless, Morgan concludes that Minaj's tweets, which he writes, "Exploded like a toxic firecracker," were definitely about Swift. "The target of her tempestuous tirade was self-evidently Taylor Swift, who did get nominated in the Video of the Year category, along with eight other nominations, and is both white and skinny," reads the commentary. "How many other skinny white women got nominated in the category? Answer: zero."    
The British TV personality appears to be a self-appointed Minaj expert from a run-in with her on America's Got Talent. Morgan writes that the Barbie was "too busy doing nothing" to meet his three sons, and had a bad attitude the whole time. 
He goes on to claim that after Swift and Minaj's Twitter spat, the 25-year-old singer was "eaten alive" by Black Twitter. "A very large, vocal and aggressive social media group of mainly Black Americans who collectively leap on any perceived racial insult or bias to expel their indignation," he writes.  
| CLICK TO VIEW WHEN RAPPERS & SINGERS BEEF |
In conclusion, Morgan says Minaj is just being a "brat" about the VMAs snub. "I have every sympathy with Taylor, who did absolutely nothing wrong. And I have no sympathy with Nicki Minaj, who emerges as a whiny brat that just doesn't like losing. Her charges of racism and big-bodyism are frankly laughable when you consider that three of the five nominations for Video of the Year are Black artists. And one of them is Beyoncé, whose own body is far more aligned to the Minaj school of physical beauty than Taylor Swift's. 
"Further, 43 of the entire list of 75 nominations for this year's VMAs include Black artists. Oh, and Minaj herself gets three nominations in other categories. So the central allegations are a load of old hogwash."
He certainly gave it a good try, and was trending on Twitter for it, but Minaj doesn't seem to care about Morgan's opinions. She hasn't even responded, and she might not — at least not right away. The "Only" rhymer has a show in Virginia tonight.
(Photos from Left: Dimitrios Kambouris/Getty Images for The New Yorker, Frederick M. Brown/Getty Images for BET)