Kim Kardashian Officially Dropped From Blac Chyna Lawsuit
The SKIMS billionaire is cleared after a judge granted her lawyer's request to remove her name from the ongoing legal battle.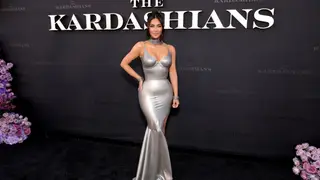 Kim Kardashian has one less thing to worry about this week. Page Six reports that the SKIMS billionaire is officially cleared from Blac Chyna's multi-million dollar defamation lawsuit against the Kardashian-Jenner family, accusing them of canceling her reality show 'Rob & Chyna back in 2017.
In a Los Angeles courtroom on Friday, April 29th, a judge declared that Kim would no longer be named a defendant in the case after the family attorney argued that Chyna failed to identify the reality star was directly responsible after a request to remove her from the suit.
"Because [Blac Chyna] has neither identified an allegedly defamatory statement by Kim Kardashian nor specified an instance where she ratified an allegedly defamatory statement by another party, the claim against her must be dismissed," read a statement from legal documents, according to PEOPLE.
"[Blac Chyna's] vague assertion on the record during [her] argument that Kim Kardashian 'ratified those statements and encouraged her sisters to make them' — without specifying how Kim Kardashian ratified them and to whom — is woefully insufficient to maintain a claim."
After five years of legal back-and-forth, the official trial officially commenced on April 20th. Other family members, including Kylie Jenner, Khloe Kardashian, and Kris Jenner, are still named defendants in the ongoing legal battle.