Will Smith And Jada Pinkett-Smith Seen Together For First Time Since Oscars Slap
The couple was spotted exiting a restaurant.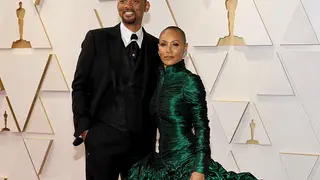 Will Smith and Jada Pinkett-Smith made their first public appearance on Saturday (Aug. 13) since Will infamously slapped comedian Chris Rock in Jada's defense at the 94th Academy Awards in March.
According to PEOPLE, the couple was photographed after enjoying an afternoon at Malibu, Calif. restaurant Nobu. Will, 53, flashed a big smile and a peace sign to a fan as they walked to their car.
They both appeared to be in good spirits, as the couple jumped into their vehicle and drove away with Will in the driver's seat, TMZ noted.
In July, Smith broke his long silence about the Oscar slap. In a five-minute video posted to his social media channels, the Fresh Prince of Bel-Air actor updates the public on the "personal work" he's been doing. The award-winning actor addressed issues that included why he didn't apologize to Rock during his Oscar acceptance speech for "Best Actor" in the 2021 film King Richard.
Smith shocked viewers worldwide when he walked on stage and smacked Rock, 57, after the comedian quipped, "Jada, I love you, 'G.I. Jane 2,' can't wait to see it."
Rock's joke referenced G.I. Jane, starring actress Demi Moore, who appeared bald in the film. Smith, 50, has been sporting a shaved head since opening up about her battle with hair loss and Alopecia in 2018.