Kevin Hart's Wife Eniko Reacts To Him Publicly Confessing He Cheated On Her
The comedian finally admitted to his dirty dog ways in a new interview.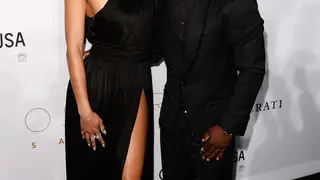 Eniko Hart has pretty much maintained military silence since her husband Kevin Hart made headlines for his involvement in a cheating/extortion attempt over the summer. Hours after her hubby spilled all the deets on his infidelity during an appearance on The Breakfast Club, the new mama took to social media with tea of her own.
Hart wrote, "The naked truth is always better than the best-dressed lie," as the caption for her post of meme that dished on being freed by the truth.
Eniko's post is right on target with comments made during Kevin Hart's interview where he owned up to cheating and revealed the toll it took on the relationship he shares with his wife and children.
Late last summer reports surfaced that the FBI launched an investigation into a plot made by an unnamed person to extort the comedian for an undisclosed amount after footage of the comedian engaged in "sexually provocative acts" with another woman went viral.