Are Tamar Braxton and Vincent Herbert Heading for Divorce?
The alleged details are pretty shocking.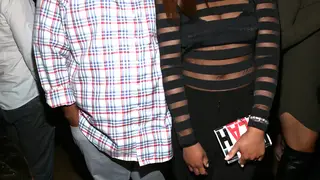 If recent reports hold any truth, Tamar Braxton and Vincent Herbert's marriage is on the rocks, and the alleged reason is pretty shocking. Love B. Scott exclusively reports that the "Love and War" singer has been cheating on her hubby with "another high-profile man" for some time.
According to the report, Vince had suspected that Tamar was stepping out during their marriage, so he hired a private detective to confirm his suspicions and found out everything. After reportedly confronting her, they had a huge blowout before two other people. The argument was allegedly so heated that they reportedly cut everyone in the room a check to keep quiet.
To make matters worse, Vince reportedly also wants full custody of their toddler son Logan.
"He doesn't know who Tamar is anymore. He says she's not the same woman he married eight years ago," a source said. "She's too busy going on vacations to worry about the drama at home. He has the baby and that's the only thing he's concerned about."
Catch up on the drama that surrounded Tamar's departure from The Real with BET Breaks, above.