Ariana Grande's L.A. Home Becomes The Latest Target In A Swatting Call
Sources close to the matter say the LAPD plans to launch an investigation.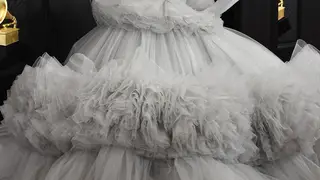 Police were called to pop princess Ariana Grande's home in the Los Angeles area after someone called in claiming that shots were being fired on the property, TMZ reports. 
The site adds that, fortunately, the police arrived to find that nothing was wrong. Ariana is the latest celebrity to fall victim to a swatting call, and this wouldn't be her first rodeo. Sources close to the matter told TMZ that the police were already leery of the call as Grande has reportedly already been swatted on at least one previous occasion.

Still, the Los Angeles Police Department sent two cars to look into the matter as a precaution. The report did not state whether the "7 Rings" songstress was at home at the time. 

The responding officers spoke with the property manager and took an abuse report. Furthermore, the outlet's sources say that the LAPD plans to look further into these swatting occurrences so that they don't keep happening as it's a waste of valuable police resources.

In other related news, her ex-fiancé, Pete Davidson, ignited an intense debate surrounding cancel culture after the Saturday Night Live comedian seemingly suggested that Grande purposefully "paints herself brown" in his Netflix comedy special, Alive From New York.

"My career would be over tomorrow if I spray-painted myself brown and hopped on the cover of Vogue magazine and just started s****ing on my ex. Can you imagine?" Davidson remarked.

Grande herself hasn't publicly responded to Davidson's comment yet. Lately, she has been busy interacting with her fans on Twitter and reminiscing over her Sweetener World Tour, which ended in December of 2019. One fan reshared a screenshot of a countdown leading up to the tour's kickoff  that Grande had previously posted herself on social media exactly one year ago to the day. When the fan asked how she felt about the anniversary, she simply responded with a sad face.