Watch Regina King's Acceptance Speech (And Shoutout To Regina Hall!) For Best Actress At The BET Awards
"Celebrating from afar," she wrote.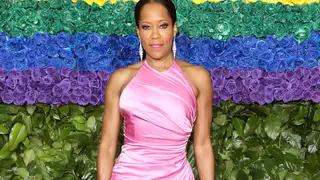 During Sunday's epic show, Regina King took home the 2019 BET Award for Best Actress. Since the If Beale Street Could Talk star wasn't in attendance, she graciously posted a video to her Instagram account, accepting her award — and gave a hilarious shoutout to Regina Hall.
"Regina Hall, you funny," she said in a video posted to her Instagram. "They can go down to Beale Street to get that b***h, but they went down to beach street to get that b***h. Thank you, BET! Love you, BET!"
King is living it up on that much-deserved vacay!
In case her words confused you a bit, take a look at the video below where Hall — jokingly — stormed off the stage after realizing she wasn't the "Regina" who won Best Actress.