Who's The G.O.A.T.? G.O.O.D Music vs. St. Lunatics | Round 1
In the tournament to decide the greatest rap crew of all time, this Round 1 battle is between G.O.O.D. Music and St. Lunatics.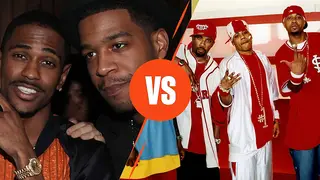 In recognition of hip hop's 50th anniversary, BET, in partnership with Ambrosia For Heads, is celebrating the culture by hosting a bracket-style competition that allows you to determine hip hop's greatest crew.
Rather than having "experts" tell you who is the greatest of all-time, this is your opportunity to collectively make that decision. After giving the opportunity to any and all fans to provide feedback on which crews should be included, 32 collectives from different regions, styles, and generations have been selected—all vying for that #1 spot. When the final battle is over and the last vote is cast, you will have determined who is your Greatest Rap Crew of All Time.
Two of the most significant breakout movements in the Midwest began just a few years apart. Superstars blazed the trail with game-changing albums featuring distinct sounds. Nelly's "Country Grammar" and Kanye West's "The College Dropout" set the table for the St. Lunatics and G.O.O.D. Music crews, respectively, with affiliates peppered on these releases. 
In the years that followed, West and Nelly worked closely with these acts to distribute attention and cultivate moments in hip hop. This round 1 Midwest matchup can leave only one crew advancing. Your vote decides which.
G.O.O.D Music
Kanye West's G.O.O.D. Music crew shared a combined goal of Getting Out Our Dreams, and did just that. In addition to being a record label that has supplied albums by Big Sean, Pusha-T, Kid Cudi, Common, Consequence, and others, the crew includes talented acts from around the country, including 2 Chainz, CyHi The Prynce, Yasiin Bey (pka Mos Def), Desiigner, and more. 
At the center of the action is a superstar producer/artist who has utilized the creative ensemble for nearly 20 years. From early rallying cries like "Grammy Family" to the six-times-platinum "Mercy" and "Don't Like," G.O.O.D. thrives off of crew energy. 2012's "Cruel Summer" repped the brand in grand fashion. Through crew association and West's oversight of albums, G.O.O.D. added new chapters to veterans Common and Pusha's careers with Grammy-nominated albums in "Be" and "Daytona," respectively. 
The crew mentored would-be stars in Big Sean and Kid Cudi and regularly integrated them into collaborative work with the vets. West has co-produced several of Sean's biggest hits, while Common narrated and guested on Cudi's acclaimed debut. The crew members were integral to 2018's summertime run of Kanye-produced projects recorded on retreat in Wyoming, including Pusha-T and a Kids See Ghosts collaboration between 'Ye and Cudi. Though the cast has rotated periodically, through the years, G.O.O.D. artists have come together to achieve greatness.
St. Lunatics
Nelly became one of rap's new superstars in Y2K. The St. Louis, Missouri, upstart distinguished himself from the East Coast skyscrapers, California sunshine, and Dirty South when he made "Country Grammar." 
The diamond-certified album and its anthem title track gave the Midwest a rap identity that went well beyond the STL. From the very beginning, Nelly made it about family—bringing producer Jay E., and affiliates the St. Lunatics into his beaming spotlight. Jay E and City Spud produced nearly all of the album, with crew members rapping on more than a fourth of its 17 songs—including spots on "Ride With Me" and "Batter Up." 
In mid-2001, Murphy Lee, Ali, Kyjuan, and the then-incarcerated City Spud thrived on "Free City," an album made over a half-decade after  the group's independent debut, as it reached #3 on the charts. After the crew's LP was certified platinum just weeks after its release, Nelly joined Murphy Lee for a gold-certified "Shake Ya Tailfeather" remix that also featured Puff Daddy. With Kyjuan, the group also laced up together on "Air Force Ones" in 2002. Ali scored his biggest hit alongside Goodie Mob's Big Gipp on "Let Em Fight," a soundtrack highlight from "The Longest Yard" remake starring Nelly. 
In this celebration of hip hop and all of its talented crews, your vote decides the winner.
---
EDITOR's NOTE: Register for the sweepstakes for a chance to win the grand prize of two (2) tickets to the 2023 BET Awards, two (2) round-trip airline tickets, and a 2-night hotel stay on June 25. Up your chances to win by voting weekly.
NO PURCHASE NECESSARY TO ENTER OR WIN. VOID OUTSIDE OF THE 50 US & DC AND WHERE PROHIBITED BY LAW. Open to legal residents of the 50 US & DC who are 18 years of age or older at the time of entry. Ends at 12:00 p.m. ET on May 1, 2023. Official Rules: bet.com/grcoat-official-rules. Sponsor: Black Entertainment Television.