2021 Soul Train Awards: 5 Things We Love About 'Best R&B/Soul Female Artist' Nominee SZA
Who do you think will take home this year's honor?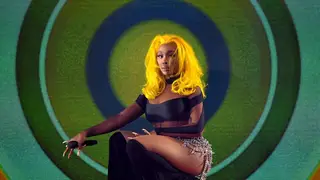 SZA is definitely the voice of the generation.The R&B songbird's 2017 was an instant classic thanks to a couple of factors including, of course, music production, but most importantly its relatability to its audience.
At 28-years-old, she gave us hits that promoted loving your natural self, dealing with the dreaded insecurities, being a part-time lover and everything in between. It's clear the "Broken Clocks" singer knows our lives and her audience. It's one of the many reasons why we love the Grammy nominated singer.
As we prepare to celebrate some of the brightest and best artists in R&B and soul genre at  the 2021 Soul Train Awards, check out a few reasons why we love this year's "Best R&B/ Soul Female Artist" nominee SZA.
A risk taker

Before she became the Top Dawg Entertainment R&B crooner,  SZA had attended four different colleges before ultimately making the decision  to drop out and focus solely on her music. At the time she was attending Delaware State University pursuing a degree in Marine biology, but she failed to pass her classes during her final semester.  She would go on to work odd jobs including working at Sephora before signing her record deal.

Multitalented outside of music

Not only is the New Jersey native a talented singer and songwriter but she's skilled in areas outside of music. In school, SZA was active in cheerleading and gymnastics. She spent 13 years as a competitive gymnast. She ranked fifth as a gymnast in the U.S. in her sophomore year of high school, according to the  The Grio . Her full athleticism can be seen in music videos for songs such as "Hit Different" and "Good Days".

Her artistry comes naturally

SZA takes an untraditionally route when it comes to creating her hit singles.  Unlike most, her lyrics usually start out as freestyle that she later fine-tunes.

She's a smart businesswoman

The music industry can and is often a tricky environment to work in. When it comes to music artists we've all heard horrid stories about bad contract dealing. SZA must've heard one testimony too many that when it came time to negotiate her contract she made sure she retained ownership of her masters as well as a 70/30 split in favor of the artist.  A move like this allows artists to have total control of what happens with their songs and their career as a whole.

She's written for global superstars

Not only has she written classic hits for herself, including "Drew Barrymore" and "Broken Clocks," but she also gave Rihanna a song for her eight studio album Anti, titled, "Consideration." Although it was set to appear on the SZA CTRL  album she gifted the fashion designer the record.

Watch the 2021 Soul Train Awards on Sunday, November 28 at 8 p.m. ET/PT on BET and BET Her.