Canelo Álvarez Is Looking To Add His Legacy In Superfight Against Jermell Charlo
Álvarez, the undisputed super middleweight world champion, will take on undisputed light middleweight Jermell Charlo for his title at the T-Mobile Arena on September 30 in Las Vegas.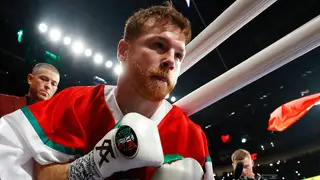 In the pantheon of boxing legends,  Canelo Álvarez is undoubtedly among the greatest of all time. Hailing from  Guadalajara, Jalisco in Mexico, he was a boxing prodigy and is one of seven brothers who would go on to become professional fighters
Following his impressive stint as an amateur boxer, Álvarez turned pro at 15 years old and he didn't take long to make his presence felt with his stout counterpunching and a penchant for giving devastating body blows.
In his accomplished career, Álvarez has won multiple world championships in four different weight classes from light middleweight to light heavyweight. He's unified titles in three of those weight classes and lineal titles in two.
Currently, he is the undisputed, super middleweight champion holding WBA (Super), WBC, WBO, IBF, and Ring magazine titles, the first boxer in history to accomplish the feat.
On Saturday, September 30, he'll face another undisputed champion Jermell Charlo, a formidable undefeated opponent who moved up two weight classes in pursuit of Canelo's titles. The fight is regarded as one of the most anticipated fights of the year.
BET.com caught up with Álvarez and we spoke about the current state of boxing, how he prepared to duel with Charlo, and where he ranks himself among the best Mexican fighters in the history of the sport.
BET.com: With your coming superfight on September 30, boxing fans have been treated to some incredible fights this year where the best of the best are facing each other. What are your thoughts about the current state of boxing?
Canelo Álvarez: I think boxing is in a very good position right now and this is a good moment because there have been really good fights this year. Boxing has been great this year and it will continue to be. We're in a great position.
BET.com: After your last fight against John Ryder, some critics said that you may have lost a step as you advance in your career. When you face Charlo you'll be fighting a bigger fighter. What do you have to say to the naysayers who claim that a slowing down?
Canelo Álvarez: You know, the critics will always have something to say. I'm really focused on this fight and they're going to see a different Canelo on Saturday night.
BET.com: From the beginning of professional boxing, Mexican fighters have been major contributors to the fight game. There's been Julio César Chávez, Rubén "Púas" Olivares, Ricardo "Finito" López, and many other great champions. Where would you rank yourself among the all-time great Mexican boxers?
Canelo Álvarez: I don't like to rank myself. I just want to continue making history and doing my job in the ring. When I achieve all my goals, then we can see what position that I'm in. But I'm glad that I'm one of the greats.
BET.com: How did your training camp prepare you for the challenge that Charlo will bring?
Canelo Álvarez: I'm always 100 percent prepared. I prepare according to the style of fighter that I'm going against. I worked hard to prepare myself for Charlo to be at his best. I was able to train 100 percent with no injuries. So I feel confident and I'm ready. I fight with different fighters with different styles.  I have the experience to adapt myself to any style and I'm ready for Charlo. I think I have the experience to do everything in the ring.
BET.com: You began your boxing career as a teenager fighting and defeating grown men. What advice would you give to young boxers coming up in the sport?
Canelo Álvarez: First, you must love boxing. Then, you need to have the talent to fight [Laughs]. You need to love boxing and be ready to sacrifice because boxing requires sacrifice. If you love boxing and have the talent for fighting, you can succeed.