'All American': Taye Diggs Explains Why He Left The Series
"No characters I've played have ever been dealt with in that fashion. I was honored," he shared.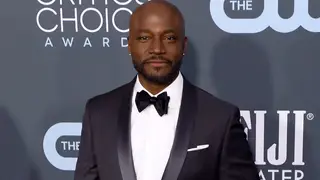 All American actor Taye Diggs is giving a behind the scenes explanation on why he chose to leave The CW series and when the conversations about his departure started.
If you are a fan of the show and are all caught up to the fifth season that is currently airing on the network, then you know that Diggs' character Billy Baker died in episode11  of the show.
In a conversation with TV Line, Diggs said that conversations about his exit from the series started at the halfway point of Season 4.
"I was having a great time. It was just a feeling that I got [that I was ready to leave], and I just honored that feeling," he said, adding that he talked to showrunner Nkechi Okoro Carroll who was on board with his decision and the planning on his character leaving the show began.
And when it came to deciding how Diggs would leave the show, unfortunately to him and Carroll, his death was the only option.
"The easiest choice would have been for me to teach at some college, but then given the intensity of the relationships between me and my family, and me and the team, it would not make sense if I was still alive and wasn't still in contact with these children of mine — these students, these young men that had such an influence on my life," Diggs explained, also noting that this was the first time that a character he has played was killed off.
"When I was told how I was exiting, I was impressed. No characters I've played have ever been dealt with in that fashion. I was honored," he added.
Diggs also shared the news about the untimely death of his character on his Instagram page on Tuesday (Feb. 14).
"That's a wrap! Thank you fans for your unrelenting support. Thank you cast for your energy and unrivaled talent. Y'all are EVERYTHING and will always be," he captioned his post. "THANK YOU, NnKe For such a graceful exit and for altering the trajectory of my life as an actor, parent and a human being. SO MUCH LOVE ❤️"
All American follows a star high school football player (played by Daniel Ezra) from South Central who is recruited to play for Beverly Hills High School and the aftermath of his two worlds colliding.
The series also stars Samantha Logan, Michael Evans Behling, Greta Onieogou, Bre-Z, Karimah, and others.
Catch new episodes of the fifth season every Monday at 8 p.m. ET.