Kenny Lattimore Beautifully Serenades His Newborn Daughter, Skylar Leigh Lattimore!
See the heartwarming daddy-daughter video.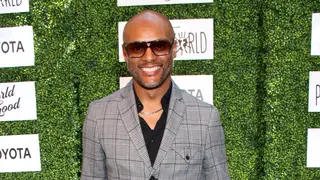 Kenny Lattimore loves being a girl dad! The singer—who welcomed his first child with his wife Judge Faith Jenkins earlier this month—recently took to Instagram with a heartwarming video showing himself serenading his newborn daughter, Skylar Leigh Lattimore. Keep scrolling to see the heartfelt moment! 
"The responsibility of bringing new life into a world that can be so chaotic and cruel can feel overwhelming. But I sing this song to Skylar as I am reminded of the simplicity of the lyrics that express authentic love — at a time when we need more of it than ever before," the new dad captioned the video on Sunday (Jan. 29).
In the daddy-daughter video, Kenny rocked a "Girl Dad" hat while beautifully singing his baby girl the song "Jesus Loves Me."
What a blessing! There's no question Baby Skylar is surrounded by love and good energy.