Man Arrested After Police Find Children Living With Feces And Roaches
John Spencer Moton was arrested on five counts of endangering a child.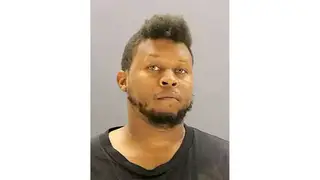 A Dallas man has been arrested after police found five malnourished children living under him and among cockroaches, rotting food and feces.
33-year-old John Spencer Moton was taken in by police on five counts of endangering a child and one count each for failing to identify and resisting arrest. His bail has been set at $9,750.
The ages of the children range from a 1-year-old to a girl who's five. A concerned neighbor called police after hearing a baby crying for an extended period of time. Authorities responded at around 2:20 pm, according to an arrest warrant affidavit obtained by the Dallas Morning News.
After police entered Moton's apartment, they noticed a strong odor. He initially refused to identify himself, stepped outside and shut the door, leaving the children inside. He also took an "aggressive stance" with police. A stun gun was used by one of the officers, which took him down. Police subsequently took Moton into custody.
The relationship between the man and the children has not yet been revealed publicly. Police also had an outstanding warrant for Moton for speeding in Benbrook, Texas.