XXXTENTACION Dead At 20 Following Tragic South Florida Shooting
An alleged video of the 20-year-old rapper has surfaced following the incident.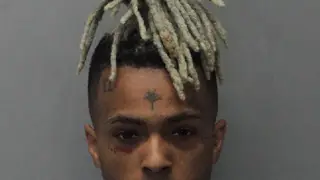 (Update: 6/18/18, 6:18 p.m.): According to TMZ, XXTENTACION was officially pronounced dead by the Broward Co. Sheriff's Department. Police officials are currently on the hunt for two suspects described as black males wearing hoodies, and a shooter wearing a red mask. The get away car in the shooting was confirmed by TMZ as a "black Dodge Journey, with dark window tints and black wheels."
See previous updates below:
(UPDATE: 6/18/18, 5:30 p.m.): According to WSVN 7 News, XXXTENTACION was sent to Broward Health North hospital following the shooting. He was reportedly admitted as a Level 1 trauma patient and is said to be comatose. 
TMZ is reporting that Miami-bred rap star XXXTENTACION, real name Jahseh Dwane Onfroy, was shot in South Florida while leaving a motorcycle dealer on Monday (June 18), and according to alleged eyewitnesses and a video of XXX, the situation may be taking a turn for the worse.
According to the site, XXX was leaving the venue when a gunman approached his vehicle and shot him. A video from the incident shows a person, alleged to be Onfroy, slumped backwards in the driver's seat of a vehicle. TMZ further states that an eyewitness of the incident detailed him as appearing "lifeless with no pulse."
XXX was recently released from jail, then from house arrest awaiting legal developments for a slew of felony charges connected to his harrowing domestic assault case including witness tampering, and witness harassment.
No further developments have been released on the reported shooting just yet, but you can see the witness-gathered video footage at the scene of the incident below.