Oprah Admits Being Stigmatized When She Weighed More Than 200 pounds
The talk show legend famously wrestled with her weight in her early career.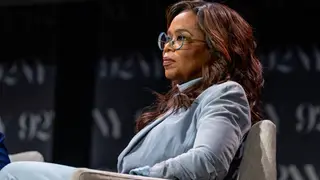 Decades after Oprah Winfrey's weight was a topic of pre-social media chatter, the talk show legend opened up on how she struggled with navigating public life while heavier.
During a recent Oprah Daily panel titled "The State of Weight," Winfrey, 69, discussed her experiences with weight gain and loss in the public eye. Obesity specialists Dr. Fatima Cody Stanford and Dr. Melanie Jay joined Winfrey on the panel, along with Weight Watchers CEO Sima Sistani and psychologist Rachel Goldman.
"You all know I've been on this journey for most of my life," Winfrey told the audience. "My highest weight was 237 pounds. I don't know if there is another public person whose weight struggle has been exploited as much as mine over the years."
Winfrey admitted to noticing a difference in how people treated her when she weighed more than 200 pounds.
"I had to deal with that when I walk into a store," she said. "It's that thing where people are like, 'Let me show you the gloves. Would you like to look at the handbags? Because we know that there's nothing in here for you.' There is a condescension. There is stigma."
The panel touched on several topics related to weight issues, including bariatric surgery, the current craze of "weight loss drugs" like Ozempic and the science behind obesity – specifically how willpower, or lack thereof, doesn't factor into the science.
"This isn't me just making people feel good about it not being a willpower issue," Stanford said. "It literally is not part of that regulation, those pathways. It's how our bodies regulate weight. And each of us is different. Each of us is unique…not one is superior to another."