August Alsina's Mom Is Not Happy With Her Son Right Now
A family war is breaking out after his interview with The Breakfast Club.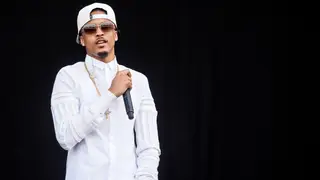 That didn't sit too well with his mother, Sheila Blair, who took to Instagram shortly after to relay her displeasure about what was said.
"So I listened to the interview. I was so sadden [sic] by the lies or the road August chose to promote the album," she wrote as the caption for the now deleted post. "It's always three sides to the story. How could you call and check on someone that stop talking to you since April?
"August didn't call me for Mother's Day, birthday in July," she continued. "Passed out, rushed to the hospital in September, didn't hear from him. It's so sad that this boy is crying out for help, and his whole team is missing it."
This latest public scuffle comes shortly after another alleged family member called out the singer for changing after fame. The unnamed person sent text messages to Alsina, who posted the series of messages on Instagram and wrote, "You're letting that lil' a** money change you. I heard that s**t you said to aunt Triece and that s**t ain't cool."
August Alsina is currently promoting his forthcoming album, This Thing Called Life, which is slated for release on December 4.
Check out the full interview with The Breakfast Club below.

BET.com is your No. 1 source for Black celebrity news, photos, exclusive videos and all the latest in the world of hip hop and R&B music.

 (Photo: Joseph Okpako/WireImage)