Kyrie Irving Explains Flipping Off Boston Celtics Fans During Game – It's The 'Same Energy'
The star point guard's Brooklyn Nets fell to his former team during Sunday's Game 1 of the Eastern Conference Playoffs.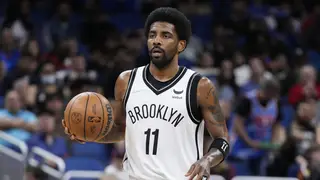 The NBA Playoffs have begun and it's already been testy on the hardwood.
During Game 1 of the Eastern Conference Playoffs bout between the Boston Celtics and Brooklyn Nets on Sunday (April 17), Kyrie Irving responded to words he heard from the crowd by flipping them off on two separate occasions.
After the game, the Nets point guard made it clear as to why he has "the same energy for them" that they had for him.
"Look, where I'm from, I'm used to all these antics and people being close nearby," Irving said after scoring a team-high 39 points during the game, according to ESPN. "It's nothing new when I come into this building what it's going to be like – but it's the same energy they have for me, I'm going to have the same energy for them.
"And it's not every fan, I don't want to attack every fan, every Boston fan. When people start yelling 'p***y' or 'b***h' and 'f**k you' and all this stuff, there's only but so much you take as a competitor. We're the ones expected to be docile and be humble, take a humble approach, f**k that, it's the playoffs. This is what it is."

The Celtics beat Brooklyn 115-114.
Irving, who played for the Celtics from 2017 to 2019, said he's gotten used to getting booed by his former team's fans. Sunday's interactions with fans were only the latest he's encountered as he's drawn even more ire from them after several recent exchanges over the past couple years.
Before the 2018-19 season, Irving said he wanted to sign long-term with the Celtics, only to change course at the end of season and leave for the Nets.
Last season, Irving stepped on the Celtics logo at center court after Game 4 of the Eastern Conference quarterfinals against Boston and subsequently had a water bottle thrown at him by a person in the crowd. During the week leading up to that game, Irving said there was "subtle racism" from the crowd at times, acknowledging he heard racist comments in TD Garden.