Black Music Month: 5 Rising Male R&B Stars to Listen to in 2022
If you don't have these names in your rotation, are you really a music lover?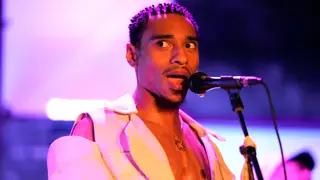 Please, please, please let's stop talking about the state of R&B.
The game is in good hands in case you haven't noticed. Heck, it has been in such a great space for quite some time that most people who say it's not get looked at with the screwface. Swipe right if you start talking about "today's music isn't as good as it was in the '90s," for real! With talent such as Lucky Daye, H.E.R., Summer Walker, Chlöe, and more becoming the new superstars in the space — you can't front that their spin on the R&B genre has left plenty of audiophiles satisfied.

Thankfully, if you're reading this piece, you not only have great taste in music, you're looking to add to your rotation. And there's no doubt that this class of vocalists, songwriters, and performers are carrying the torch for next-level R&B. Whether sangin' over smooth instrumentals or adopting the contemporary fusion of melodious trap music, this is a rundown of voices who are rightfully atop the forefront of R&B and should be in your playlist from now and forevermore.
Durand Bernarr

On "Company," from his 2020 album Dur&, the multifaceted entertainer sings about his many layers — especially when it comes to romance. The Cleveland-to-Los Angeles hero of "gangster musical theatre" is readying his next album, Wanderlust, and has quickly become a welcomed member of R&B's elite next to the likes of Ari Lennox, Syd, and Alex Isley. 

As someone who is supernaturally gifted and larger than life, it is still not too late for music snobs to add this masterful talent to your speaker box.

Jvck James

Musicians coming out of East London, frankly the U.K., have put a unique print on R&B these days. In fact, I'll go so far as to say that Jvck James is a special vocal presence whose lush vocals have already pushed R&B past certain boundaries. 

Blessed with his own signature flair, songs like "Extroverted Lovers," "Easy," and his latest, "Hennessy Tears," are numbers that aren't afraid to inspire the heart to move to its own beat. With each new project — like JOYRIDE — Jvck James shows that he presents a new, fresh direct and sound that will shift how R&B fans enjoy an audio experience.

Devin Morrison

Can we finally put some respeck on Devin Morrison's name, y'all? Who else do you know can take the best of what '90s R&B has to offer, video game synths, and serve it over deliciously delightful lyrics and reverbed snares to spin silky sounds that would make Teddy Riley bust a move? 

The Orlando-born, Los Angeles-residing singer-songwriter, that's who! A fervent experimentalist at the highest level, Morrison's love of video game soundtracks, Japanese soul and city pop music, and jazzy organs has made Bussin', his debut offering, an instant classic (and one to add to your collection on vinyl). 

A member of today's budding alt-R&B superstars, Morrison has taken his position as one of the genre's most innovative creatives to diversify the stylings of artists like KING, Phonte, and Maségo, which the latter did wonderfully on the cut, "Yamz." Get you some of that and more of Devin Morrison to have an excellent day.

Kwaku Asante

A chalé that refuses to get boxed in with the rest of the normies, Kwaku Asante's musical mastery is an example of how his musical abilities supersede the industry's expectations. His sophomore EP, Ode, a soft and subdued account of love gain, lost, and laid bare, was a seamlessly cool 5-track offering. And while Blue Solstice: Volume 1, with its uplifting free-jazz and disco-and-funk-induced vibes, was a new formula for Asante — it is 2019's honeycomb that still remains a favorite for this writer. 

Driven to challenge outdated narratives such as hypermasculinity, Kwaku Asante is a needed outcast in an industry full of followers and wannabes. And for audiophiles, he is what would happen if D'Angelo and Frank Ocean had a love child, a voice that combines strength with sensuality to give us a distinct and otherworldly soundscape.

Marco McKinnis

Getting his start on YouTube, Marco McKinnis recognized the bountiful ability to paint pictures with his vocal ability. His 2015 SoundCloud song 'love?,' presented his natural talents to a hungry audience, eager for new, untapped artistry, while the buzz grew to a fevered pitch and caught the attention of Universal's Republic Records. Fast forward to 2018, and his growing fanbase was increased thanks to the song, "CPR," which quickly captured late-night vibes, and ended up on countless "Cuffing SZN" playlists. 

Now, after E'Merse came out in 2019, Marco McKinnis proved that his fandom is ever-hungry for more music, and this writer is hoping that we don't have to wait much longer without his music in our earholes. For those who have yet to hear his work, pull up these previous works and listen to how they'll change your life.

Kevin L. Clark is a screenwriter and entertainment director for BET Digital, who covers the intersection of music, film, pop culture, and social justice. Follow him on @KevitoClark.