Da Brat And Jesseca Dupart Announce They Are Expecting Their First Child Together—Days Before Their Wedding!
"We are EXTENDING the family," the couple announced on Instagram.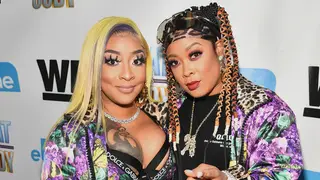 Da Brat and Jesseca Dupart are expanding their family! Days before their 2.22.22 wedding, the pair announced they are expecting their first child together with adorable new images.
Below, check out the heartwarming photos that show Da Brat cradling her soon-to-be wife's baby bump.
"We are EXTENDING the family🤰🏽," the couple captioned the photos on Instagram.
While little details are available at the time of this post, we are extremely excited about the couple's big announcement. Join us in congratulating them on their bundle of joy!