Cuba Gooding Jr.'s Brother Shows His Support Amid Sexual Misconduct Allegations
Omar took to Instagram.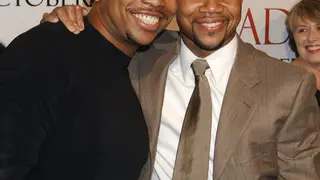 Cuba Gooding Jr. is facing some serious allegations from seven new women over sexual misconduct ranging from unwanted touching to to rape.
Apparently, his little brother is sticking by him. Taking to his Instagram, Omar Gooding posted a picture of Cuba holding his newborn nephew Miles Christian Gooding, accompanied by Omar's other son Omar Gooding Jr. and the caption, "Sorry Hate. Love wins. Keep ya Head held High Broham. #Truth #Tis The Season."
The captions on the post were disabled.
The total number of women who have accused Cuba Gooding Jr. of sexual misconduct is now at 22. He's reportedly been indicted on criminal charges stemming from three separate alleged incidents in New York City. He hasn't yet been charged for any of the claims by the seven new accusers, but could be soon.
Gooding's lawyer Mark Heller, according to TMZ, says his client wants the indictment tossed and claims he "has and does deny all allegations of criminal conduct. Unfortunately, people come out of the woodwork, making false allegations against Cuba, as often times happens when a celebrity is accused by the District Attorney's Office in a Public Forum."