Five Shocking Moments From Wendy Williams' Epic Career
The media legend turns 59 years old today.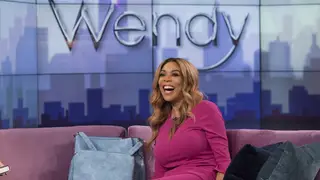 Happy 59th birthday to the legendary talk show host, Wendy Williams! Throughout her epic career in the entertainment industry, she has left audiences stunned, gasping, and laughing with her unfiltered opinions and unforgettable moments. From her early days in radio to becoming a trailblazing television personality, Wendy Williams has built an empire on the foundation of shock value and boundary-pushing commentary. As we celebrate this milestone birthday, let's take a walk down memory lane and revisit five shocking moments that have defined her remarkable journey in showbiz. 
Omarosa Interview

Think the Celebrity Apprentice star's feud with La Toya Jackson was bad? It ain't nothing compared to her shocking interview with Williams. The bad blood dates back to 2008, when Williams called Omarosa a "typical angry Black woman" on her show after the reality star referred to her as "disrespectful." The beef was so strong between these two that Williams allegedly skipped out on the coveted White House Correspondents Dinner in 2010 because she would be seated next to "that delusional, pathetic, D-list woman." They seemed to have resolved their differences when Omarosa returned to Williams' show later that year.

Wendy's Comment About Evelyn Lozada's Newborn Baby

Williams definitely brought out the protective mother in the Basketball Wives star when she referred to Evelyn Lozada's newborn baby as a "cash register" — in reference to Lozada's baby's father being MLB player Carl Crawford. And the reality star wasted no time in retaliating. Lozada exposed Williams' husband's shopping habits — for other women — on Twitter. "#NowPutThatOnHotTopics," she taunted.

Whitney Houston Interview

In 2003, Williams interviewed Whitney Houston. The legendary singer clapped all the way back at Williams for years of talking about her on the radio. Once Williams got her talkshow, she advocated on air to get Houston to come on her show. But Houston never did. 

End Of Marriage

Williams filed for divorce from Kevin Hunter in April 2019, not long after it was revealed that Hunter's alleged mistress Sharina Hudson was having a baby. By January 2020, their divorce was final. Kevin Hunter and Sharina Hudson reportedly got engaged in October 2021. It was a shocking end for Williams and Hunter — especially years after her talking about other marriages and divorces. Williams and Hunter first met in 1994 and married three years later. They share a son, Kevin Hunter Jr.

Biopic And Documentary

In 2021, Williams dropped the biopic Wendy Williams: The Movie, starring actress Ciera Payton as Williams. Immediately following the film, the documentary Wendy Williams: What a Mess! aired. The biopic and doc were shocking and emotional, with both projects trending on social media for days.