Immigration: It's a Black Thing, Too
Black immigrants hold a rally on Capitol Hill and lobby lawmakers on comprehensive reform and their specific needs.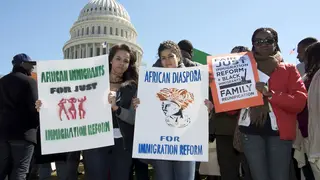 To call attention to their distinct needs, about 200 Black immigrants, representatives from labor and grassroots organizations, and members of the Congressional Black Caucus rallied on the steps of the U.S. Supreme Court on March 20. Participants also visited congressional offices and attended a briefing hosted by New York Rep. Yvette Clarke.
"Our parishioners face many challenges in the immigration system and this is not right," said Pastor Gilford T. Monrose, whose Brooklyn congregation includes many undocumented people. "Black immigrants are an integral part of the society and have contributed greatly to the cultural and economic fabric of the United States."
Congressional visits included one with the Senate bipartisan "Gang of Eight," which is expected to unveil its immigration plan next month. The plan includes a proposal to provide a path to citizenship for undocumented workers.
"We were really pleased to see lawmakers care and show support for our event and an interest in learning more information from community members and experts, people who live this struggle and bear witness to a lot of the injustices that Black immigrants face,"  said Opal Tometi, a national coordinator for the Black Immigration Network, one of the groups organizing the event. And, it was great to see Black leadership on the issue. It's seen as a Latino issue but our voices have been in the fight for a long time."

BET National News - Keep up to date with breaking news stories from around the nation, including headlines from the hip hop and entertainment world. Click here to subscribe to our newsletter. 
(Photo: SEIU/Mackie Lopez)